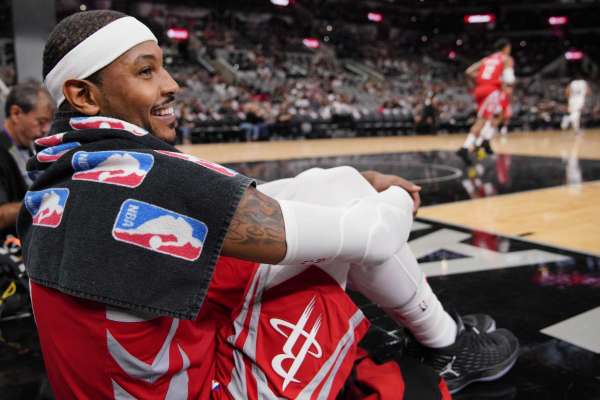 The Houston Rockets are not happy Chris Paul received a two-game suspension for his role in a Saturday night incident involving Rajon Rondo, who was handed a three-game suspension himself. Carmelo Anthony, on the other hands, is just happy Paul didn't get a heftier punishment.
From USA Today's Martin Rogers:
"I'm actually a little shocked at the number of games that they are missing," Anthony said, following the Rockets' 115-112 defeat to the Los Angeles Clippers. Lakers' swingman Brandon Ingram was banned for four games, Rondo for three.

"It actually works in our favor to be honest with you," he continued. "I have seen it go 10-15 games before – I was the culprit of that years ago. But to see CP – I don't want to be speaking on CP – but to see CP only get two games … I didn't know what to expect to be honest.

"Nothing surprises me with the NBA anymore, nothing surprises me. So for him to only get two games is good."
Punches were thrown. So, in a way, Anthony is right. There could have easily been suspensions that spanned longer than the four games received by Brandon Ingram.
At the same time, the Rockets have the right to be angry. Video from the incident shows Rondo ostensibly spitting CP3:
From those who missed it this morning: here's the key part of the video that sources told me the Rockets submitted to the NBA to show why Chris Paul felt he was provoked in last night's fight at Staples Center. The league is expected to make a ruling on suspensions soon. pic.twitter.com/vyYAaKinhb

— Rachel Nichols (@Rachel__Nichols) October 21, 2018
How does someone simply not react to that? Even if Rondo did that by accident—which, meh—Paul isn't going to think about that in the moment. So if you're going to suspend Paul at all, it's because you either believe what Rondo did was clearly intentional, or you, as the league, just plain refuse to deviate from a hardline zero-tolerance policy.