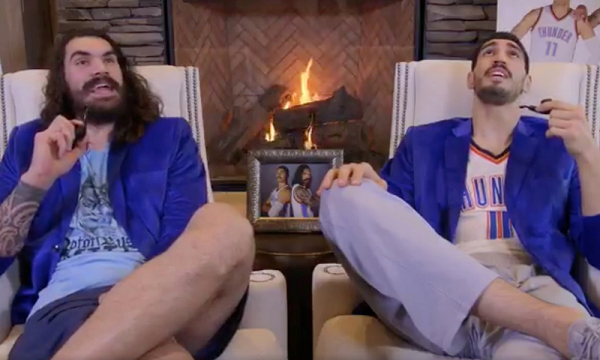 We are all aware of Russell Westbrook's mind-numbing resume for MVP this season as he is averaging a triple-double (31-10-10) and has an incredible 35 triple-doubles thus far this season.
While that more than speaks for itself, some of his teammates are still doing their part to campaign for their leader for the NBA's top individual honor.
Please take a few minutes to enjoy the newest masterpiece from the Thunder's own stache brothers, Steven Adams and Enes Kanter and fellow teammate Andre Roberson…
?? ? ? Lions and Tigers and Russ for MVP Oh My!! #MVP #MVP #MVP #hist0ry #thepeopleschamp pic.twitter.com/4aQUsZ62hn

— Enes Kanter (@Enes_Kanter) March 20, 2017
Apparently when not preoccupied with planning trips to Disneyland, the Stache Brothers like to debate things they would rather do than guard or wrestle Russell Westbrook, as Roberson opted for swimming with alligators or wrestling a bear.
Steven Adams is easily one of the coolest humans in the NBA and Russell Westbrook is deserving of some new hardware this season.