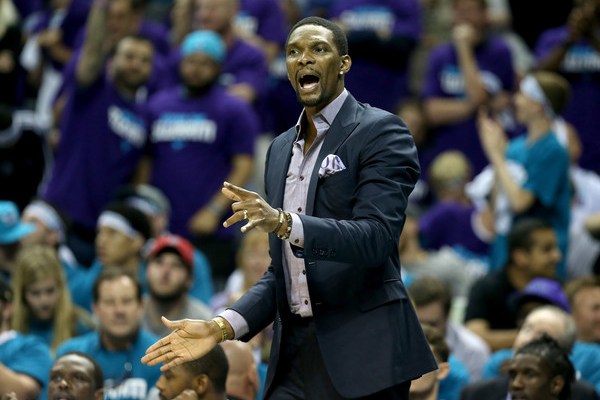 Don't worry about Chris Bosh. He's doing just fine away from the NBA.
Per the Associated Press' Tim Reynolds:
"I'm a little bit more adjusted now," Bosh said. "But before, you're going 100 mph and the brakes are slammed on and now you're not moving at all. It's definitely an adjustment, just being able to get used to things and finding that purpose that I think we all need to succeed and have good mental health. It's been a challenge. Things happen for a reason, I guess."

The TV gig, for now, is part-time.

The five kids at home, that's full-time. And they're used to having their dad at home when they arrive back from school in the afternoon, something Bosh — who is playing some basketball in workouts — has happily gotten used to as well.

"People are so concerned and I appreciate it, but I'm doing fine," Bosh said. "I'm very happy. I'm getting to do other things that I have never been able to do. I'm a beginner in a lot of things. But I've learned to like it, and just look at the nice new picture I have of the world."
Bosh hasn't played since Feb. 09, 2016, after which time he was shut down for the rest of the 2015-16 season with yet another blood clot issue. While he expected to play this season, a failed physical derailed that hope.
Now, his NBA career is in jeopardy, if not over. His tenure with the Miami Heat is almost certainly dunzo. They are still, per Reynolds, supposed to be begin the process of getting the final two years and $52.1 million of his deal wiped from their books.
What happens after that is unclear.
Bosh, after being so outspoken for so long about his intent to return, seems hesitant to discuss his future, or lack thereof. But it speaks to his personality, his resolve, that he's able to find comfort outside basketball, with his family. It's a transition most people live, and commending him for being happy with his family feels weird, particularly when he's made so much money and doesn't need to work again unless he has the urge. But basketball is both a career and life to these guys, including Bosh. That he's embracing life after it years before he was supposed to is, in fact, something to admire.