February 15, 2011 – Allen Moll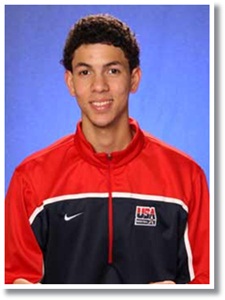 It's about that time of year again when the very best high school players in the 2011 graduating class are on display in this year's version of the McDonalds All American Game, and as usual TheHoopDoctors.com has you covered.  While the game itself, which is being played in Chicago for the first time since 1982, usually turns into a self promoting dunkfest with the competitors chosing to pad their stats with dunks and 3 point shots rather than showcase their true basketball abilities, all in search of the game's prestigious MVP Award.
The selfish play in pursuit of the award is totally understandable when considering the fact that winning the trophy is almost always a surefire ticket to super-stardom as the list of winners include some of the very best basketball players on the planet like Shaquille O'Neal, Kevin Garnett, Lebron James, and most recently Tyreke Evans and Jared Sullinger. Who will it be this year?
The 2011 rosters are arguably some of the best ever, highlighted by players like Austin Rivers, Mike Gilchrist, and Anthony Davis. John Calipari and the University of Kentucky are the big winners as they are the only school to have 4 players selected for the contest: Gilchrist, Davis, Marqus Teague, and Kyle Wiltjer. There were a few notable exceptions like University of Washington commit Tony Wroten Jr, who is a consensus Top 10 ranked player by most sources. Two other obvious snubs were Oakland HS guard Jabari Brown (#24 ESPN), who is headed toOregon, and Findlay Prep's outstanding swingman Nick Johnson (#23 ESPN), who will be playing for Sean Miller and Arizona next season.
One very talented player who won't be playing in the event is elite level forward Quincy Miller (#4 ESPN), who may have the most upside of any player in the '11 Class. Miller, whom many have already compared to Kevin Durant, is currently out for the season, still on the comeback trail from a devastating ACL tear. Word is that Miller should be close to 100% by the time he arrives on campus to play for Baylor next season.
Don't forget to watch the Powerade Jamfest, which was won last year by Kansas' Josh Selby, on Monday, March 28th on ESPN and the 2011 McDonald's All American Game on Wednesday, March 30th at 10PM on ESPN.
Here are the 2011 McDonalds All American Rosters:
EAST
Brad Beal, G, Chaminade College Prep (St. Louis, MO) – Signed to Florida
Chane Behanan, F, Bowling Green (KY) – Signed to Louisville
Kentavious Caldwell-Pope, G, Greenville (GA) – Signed to Gerogia
Michael Carter-Williams, G, St. Andrew's (RI) – Signed to Syracuse
Rakeem Christmas, C/F, Academy of the New Church (PA) – Signed to Syracuse
Quinn Cook, G, Oak Hill Academy (VA) – Signed to Duke
Michael Gilchrist, F, St. Patrick (NJ) – Signed to Kentucky
P.J. Hairston, G/F, Hargrave Military (VA) – Signed to North Carolina
James McAdoo, F, Norfolk Christian (VA) – Signed to North Carolina
Johnny O'Bryant III, C, Eastside (MS) – Signed to LSU
Marshall Plumlee, F/C, Christ School (NC) – Signed to Duke
Shannon Scott, G, Milton (GA) – Signed to Ohio State
WEST
Khem Birch, F, Notre Dame Prep (MA) – Signed to Pittsburgh
Wayne Blackshear, G/F, Morgan Park (IL) – Signed to Louisville
Anthony Davis, F, Perspectives Charter (IL) – Signed to Kentucky
Branden Dawson, G, Lew Wallace (IN) – Signed to Michigan State
Myck Kabongo, G, Findlay Prep (NV) – Signed to Texas
LeBryan Nash, F, Lincoln (TX) – Signed to Oklahoma State
Austin Rivers, G, Winter Park (FL) – Signed to Duke
Marquis Teague, G, Pike (IN) – Signed to Kentucky
Adonis Thomas, F, Melrose (TN) – Signed to Memphis
Amir Williams, C, Detroit Country Day (MI) – Signed to Ohio State
Kyle Wiltjer, F, Jesuit (OR) – Signed to Kentucky
Cody Zeller, F/C, Washington (IN) – Signed to Indiana
Check out a video highlighting who to watch in the backcourts:
Check out who to watch in the frontcourts:
Allen Moll has been a lifelong NBA and NCAA College Basketball fan who watches and studies games religiously, and coaches youth basketball in his native Lehigh Valley region of Pennsylvania.  Allen also provides content to Bleacherreport.com, Upperdeckblog.com, in addition to being a tenured NBA and NCAA columnist for TheHoopDoctors.com.