January 27, 2011 – Allen Moll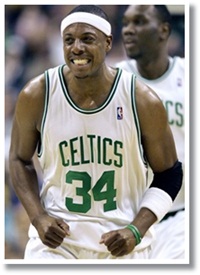 When all is said and done and Boston Celtics great Paul Pierce finally does hang it up sometime in the future, there's no doubting that his #34 jersey will join the many other Celtic greats like Bill Russell, John Havlicek, and Larry Bird up in the rafters at TD Garden. But as this truly all time great of the game has been overshadowed throughout his career by other high profile superstars during his tenure like Kobe Bryant and Lebron James, many NBA players when asked who the hardest player to guard is, the answer more times than not is that of "The Truth."
If you think about it, sure Lebron James is much more physical, Kevin Durant is a better shooter, Tracy McGrady was a more prolific scorer, and Kobe is well, a Top 10 scorer in NBA history. But one could argue that Pierce is the perfect combination of all 4 players as he possesses great handles, plays excellent defense, shoots daggers from behind the arc, has an excellent midrange game, and can dominate a game with the best of them.
While he is no longer a spring chicken at the tender age of 33, Paul still shows flashes of what has made him an 8 time All Star, 4 time All NBA selection, an NBA Finals MVP, and a 20,000 point scorer. Many fans don't realize just how diverse a skill set Pierce has, all in a 6'8 and 235 lb frame. He towers over and overpowers most shooting guards yet possesses enough quickness, ball-handling, and maple moxey to get off his own shot against bigger front-court players.
Most deadly has been his almost patented spin move and step-back jumper which to this day still gets the best of and even infuriates even the league's best defenders attempting to guard the future Hall of Famer. "The Truth" now plays more of a facilitator type role on the Celtics, averaging 18.3 ppg and providing whatever is needed alongside his star-studded cast including Rajon Rondo, Kevin Garnett, Ray Allen, and Shaquille O'Neal.
Apparently the now older Pierce's game is still in full effect as his Celtics are once again the current #1 seed in the Eastern Conference with a gaudy 34-10 record, including a nearly unblemished 22-3 home mark. Surely the aging and prolific supporting cast have their eyes set on making their 3rd NBA Finals appearance in the past 4 years now that their mainstay in the middle Kendrick Perkins is back in the fold.
Check out this interesting video where current NBA players claim that Paul Pierce has the full "bag of tricks" and is nearly impossible to guard:
Allen Moll has been a lifelong NBA and NCAA College Basketball fan who watches and studies games religiously, and coaches youth basketball in his native Lehigh Valley region of Pennsylvania.  Allen also provides content to Bleacherreport.com, Upperdeckblog.com, in addition to being a tenured NBA and NCAA columnist for TheHoopDoctors.com.