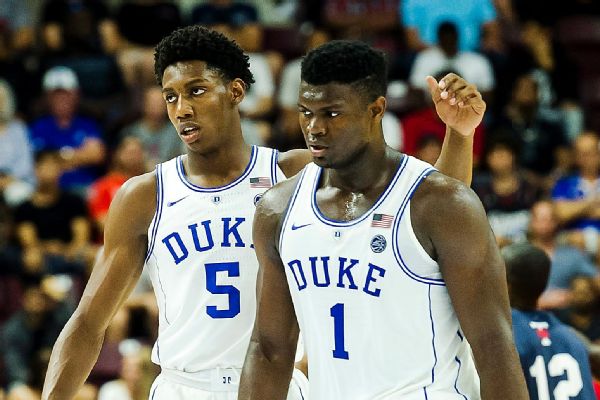 Every so often a college basketball program comes along that's good enough to convince people they could beat an NBA team. This year's Duke squad is now that program—or so says Paul Pierce.
Speaking on ESPN's NBA Countdown, the Boston Celtics legend says he thinks this season's Blue Devils could beat the 2018-19 Cleveland Cavaliers, per WKYC's Ben Axelrod:
"Y'all see that Duke game last night?" Pierce asked rhetorically a day after the No. 4 Blue Devils beat second-ranked Kentucky 118-84 in their season opener. "They could beat Cleveland — you heard it here first."
Here's the video clip for extra context on Pierce's comments:
.@paulpierce34 thinks Duke could take on … the Cleveland Cavaliers. ? pic.twitter.com/q1V1lj6SXC

— ESPN (@espn) November 8, 2018
So, um, yeah. Let's not do this.
Duke looks fantastic. They absolutely destroyed Kentucky, the team widely considered their equal, on opening night. R.J. Barrett, Cam Reddish and Zion Williamson are all top-five prospects. The latter has even said this team has designs on trying to be the best college basketball squad ever.
That seems like a lofty goal. Beating an NBA team is an even steeper one, though.
There's no doubt the Cavaliers are bad—especially now. Kevin Love and George Hill are both out, and Cleveland wasn't good to begin with. But these hypothetical college vs. NBA debates verge on pointless. The talent pool in the Association is so much denser than it is at the amateur level. The worst player on the worst team would almost always be a pivotal component of a college program.
Could the trio of Williamson, Reddish and Barrett hold their own for stretches against the Cavaliers? For sure. Especially in transition. But to say Duke would beat the Cavaliers—particularly if Cleveland is at full strength—is a disservice to the brand of play at the professional level.