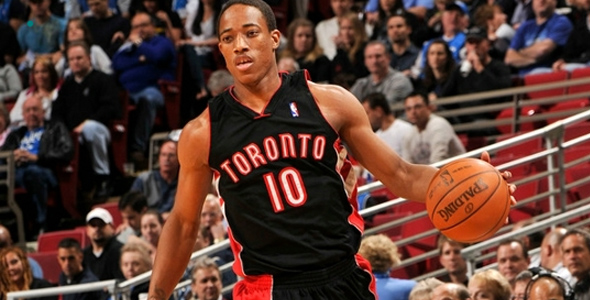 January 27, 2011 – Kevin Burke
Now that's more like it. Suddenly, the dunk contest just got more interesting. Brandon Jennings was just replaced by Toronto's DeMar DeRozan. We knew he would be replaced. We just didn't know by who and when.
Jennings has missed the last 14 games for the Bucks as he is recovering from a broken foot, which has forced him to withdraw. I'm still not convinced that Jennings ever had any intentions on participating because he doesn't have NBA Dunk Contest hops. Perhaps it was just a way to keep his name relevant since he is one of the brightest young players in the league who constantly gets overlooked because he plays in Milwaukee.
Brandon is on track to return to the lineup in the next few weeks, but the thought of him practicing for and competing in the dunk contest was reason enough for both he and the organization to realize that it wasn't a good idea.
Enter, DeRozan – who was last year's runner up in the dunk contest. He's actually one of the better dunkers in the league and is a guy who I think could give Blake Griffin a run for his money in this contest. JaVale McGee and Serge Ibaka can hold their own but I think it will come down to Griffin and DeRozan.
Although he's primarily known as a dunker, DeRozan has actually put together a solid first half of the season for the Raptors, averaging 15 points a night. Here's some of what DeRozan did in last year's contest:
If you're looking for your everyday, predictable basketball talk, then go somewhere else, because Kevin Burke of The Kevin Burke Project brings provocative, thought provoking content about basketball as only he can. Kevin also hosts The Hoop Doctors weekly podcast show, which you can subscribe to for free on iTunes. Follow Kevin on Twitter and Facebook