January 6, 2011 – Kevin Burke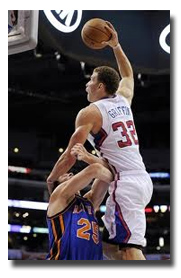 It's hard to believe that we're a little more than a month away from the All-Star break. Time flies when you're having fun I guess. One event that has traditionally been a marquee draw during the weekend is the dunk contest. Unfortunately, many of the dunk contests over the past 10 years have been putrid. Who can forget Shannon Brown running the entire length of the court to simply do a basic dunk? Or Gerald Green blowing out the candle of a cupcake that was sitting on the rim before dunking? Lame. The contest has suffered because the serious leapers are too cool to participate. Back in the day, you weren't cool if you didn't participate, but now it's the opposite.
The contest may have just gotten a shot in the arm as eventual Rookie of the Year, Blake Griffin will be participating. For about a month now, I've been wondering if he would take part. He's the most anticipated and electrifying dunker in the game today so it would only be fitting if he didn't participate. Blake's attendance in the competition makes it a must see. He can surely catch an alley from anywhere in the gym and routinely embarrass people by dunking on them powerfully, but is he creative enough manufacture dunks that can win a contest? I'm going to go out on a limb and say yes.
Oh yeah, I almost forgot. There will be other guys competing too. Brandon Jennings, JaVale McGee and Serge Ibaka will battle for 2nd place. Each competitor will be paired with a slam dunk coach. Griffin will be with Kenny Smith, Jennings with Darryl Dawkins, McGee with Chris Webber, and Ibaka with Kevin Durant.
On the surface, aside from Griffin, this field lacks star quality dunkers. That may be true but have you ever seen JaVale McGee jump? He's probably one of the freakiest athletes in the league who isn't afraid to try anything. Serge Ibaka dunks quite frequently but I think he's too stiff for a competition like this.
Then there's Brandon Jennings, and here's where I'm confused. While Brandon can get up, he doesn't have NBA dunk contest hops. The Hoop Doctors definitely have love for Jennings but this competition isn't for him. I don't know who's idea it was for him to be named, but it's a terrible idea. Rondo may as well participate too.
You don't really see that many Jennings highlights of him  dunking in games, but then again Nate Robinson hardly ever dunks and he won 3 consecutive dunk contests.  I dug up a dunk mix for Jennings to see there was something I was missing:
He dunks with relative ease and aside from the between the legs leaner that he does at Cameron Indoor Stadium at the 2:23 mark, there aren't many NBA dunk contest dunks so I'm not sure why he'll be participating. But to Brandon's credit, he's only 6'2″ which still makes the video clip impressive. (Is it me or doesn't he have a Dee Brown flare to his dunks?). And isn't he out with a broken foot and not expected to return until mid January?
There may have been better small guard options such as Derrick Rose and Russell Westbrook. But again, you're not cool if you participate. Either way, Griffin (who actually has All-Star numbers) should put on a show. Should be interesting. Can Blake Griffin's high flying act rejuvenate the popularity of the NBA dunk contest?
If you're looking for your everyday, predictable basketball talk, then go somewhere else, because Kevin Burke of The Kevin Burke Project brings provocative, thought provoking content about basketball as only he can. Kevin also hosts The Hoop Doctors weekly podcast show, which you can subscribe to for free on iTunes. Follow Kevin on Twitter and Facebook