January 7, 2011 – Joshua Sexton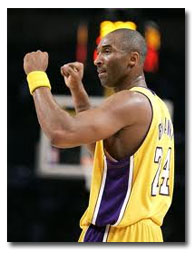 During Tuesday night's win against the Pistons, Kobe surpassed Dominique Wilkins, and moved into tenth place on the all-time scoring list.  After his 24 points against the Suns on Wednesday, Kobe is only 16 points away from passing Oscar Robertson for ninth place. In a nutshell, Kobe is starting to surpass some of the biggest names in NBA history.
The next three players Kobe will pass on the list are: Hakeem Olajuwon, Elvin Hayes and Moses Malone. Right now, Kobe is 739 points away from surpassing Moses Malone for sixth place. With that being said, Kobe will have to average roughly 16 points a game the rest of the season to catch Moses for sixth place. He is currently averaging 25. Therefore,  as the 2010-11 season comes to an end, Kobe will most likely be the sixth all-time leading scorer.  Looking ahead to next season, Kobe would then be in line to pass his old teammate Shaquille O'Neal for the number five spot.
So, this begs the question: How far will Kobe make it on the all-time scoring list? Is it possible Kobe can pass Kareem as the all-time leading scorer? It would be too lofty to say that Kobe will undoubtedly be number one, but it surely isn't out of the question. With the way Kobe takes care of his body, and his relentless commitment to being the best in the game, it could happen. Also, Kobe would love to hold the record. As much as he may shrug it off, I believe he would ultimately love to retire as the all-time leading scorer, to go along with at least five championships.
So, where do you all think Kobe will end up? Number one? Top three? Let me know what you all think.
**Update** – Last night (Jan. 7th, 2011) Kobe passed the legendary Oscar Robertson and moved up to #9. Kobe hit a free throw with 2:10 remaining in the third quarter to tie Robertson. The historical field goal was then achieved during 1:10 remaining in the third as Bryant scored in the lane.
Joshua Sexton is a lifelong basketball fanatic, who watches as many games as possible. In addition, He has played and coached the game at the high school level. He has recently started writing about the game of basketball.