January 7, 2011 – Allen Moll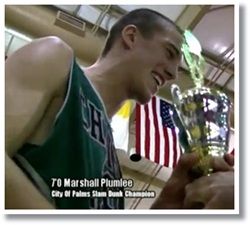 If current Duke Blue Devils Mason and Miles Plumlee decide to remain on campus past this season, they will form quite a potent front-court trio when the youngest, and arguably the most talented Plumlee brother named Marshall, will join his older brethren as one of Coach K's fabulous freshmen, joining #1 rated player Austin Rivers and elite level PG Quinn Cook.
Marshall, currently finishing up his senior season at Christ School in North Carolina is the #4 rated center and a Top 50 overall rated prospect per ESPN. Standing an imposing 6'11 and 220 lbs, he will provide immediate dividends as a freshman next season either as part of their front-court rotation or playing major minutes in place of brother Mason who may decide to enter his name in the 2011 NBA Draft.
The youngest Plumlee was recently showing off his skills at the City of Palms HS Tourney in the dunk contest which featured an impressive field of competitors with the likes of Shaquille Johnson, Ike Nwamu, Marcus Gilbert, Demetris Morant, and Duece Bello, who won the Elite Boost Mobile Dunk Contest this Summer. Bello along with HS teammate Quincy Miller, who are both elite level recruits, also made news recently by committing together to play next season at Baylor.
While his team could only muster a 5th place finish in the team event, Plumlee showed off his dunking prowess by winning the dunk contest with a number of highlight reel dunks which had the crowd in attendance on their feet. The creative dunk that put him over the edge to take home the crown was something similar to what we've seen before at the highest level when Steve Nash used his soccer skills to assist Ama're Stoudemire in the '05 NBA Slam Dunk Contest.
This time, Marshall used a teammate to serve him a header for a dunk, then had him reverse kick the rock for a one-handed jam which won the judges over enough to secure the win.
Check out highlights of the 2010 City of Palms Dunk Contest:
Thanks: HoopMixtape.com
Allen Moll has been a lifelong NBA and NCAA College Basketball fan who watches and studies games religiously, and coaches youth basketball in his native Lehigh Valley region of Pennsylvania.  Allen also provides content to Bleacherreport.com, Upperdeckblog.com, in addition to being a tenured NBA and NCAA columnist for TheHoopDoctors.com.