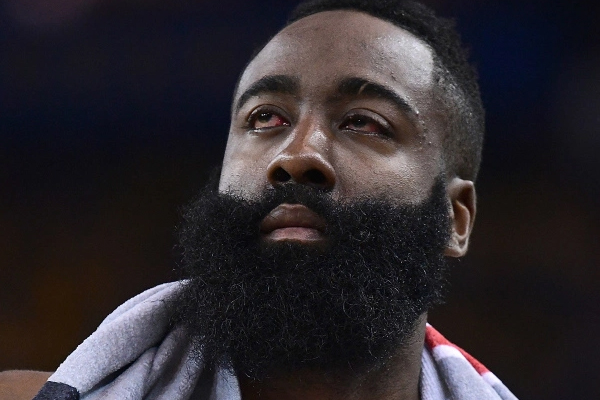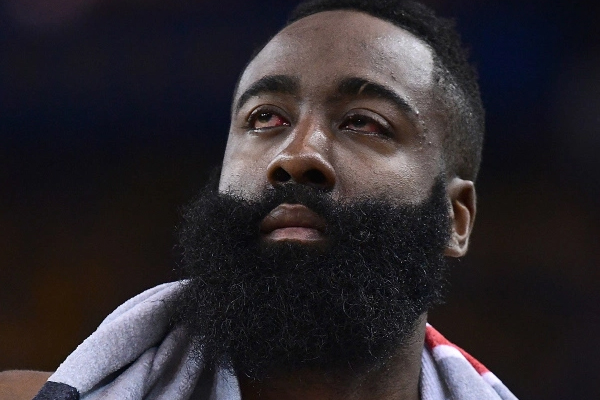 Houston Rockets fans got quite a scare after James Harden left during the first quarter of Tuesday loss with injuries to both of his eyes.
Harden got poked in the left eye by Draymond Green while contesting a rebound and stayed down on the court through a timeout to be looked at by the team's medical staff. He left the court holding a towel on his head and missed the rest of the quarter.
James Harden has left the game after getting hit in the eye by Draymond Green.

As he was leaving the court both Green and Kevin Durant went over to check in on him. pic.twitter.com/W3cXZCcQNn

— KNBR (@KNBR) May 1, 2019
Rockets coach Mike D'Antoni was not sure what his status would be for the rest of the game but said he was "bleeding from the eye" during his between quarter interview.
The seven-time All-Star returned in the second quarter after taking some eye drops to alleviate the pain. However, he was clearly bothered by the injury and seemed sensitive to any lighting. He repeatedly squinted and shielded his eyes throughout Game 2 and afterward during his postgame address to the media.
"It's pretty blurry right now," Harden told reporters. "Hopefully it gets better day by day."

"I can barely see. Just tried to go out there and do what I can to help my teammates."
Green patted Harden on the back and checked to make sure he was OK as the Rockets guard left the court.
"We were fighting for a rebound. I made a mistake and hit him in his eye," Green said. "It's not about hurting anybody out here. So many times people forget, when a guy has an injury, you live with that every day, every second of every day. It's not just about this game. If his eye is messed up, he's got to live that every day. Just want to check on the guy. At the end of the day it's bigger than basketball when it comes to injuries."
Harden finished with 29 points and seven rebounds in the Rockets' 115-109 loss. The Rockets trail the Warriors 2-0. The teams will face off on Saturday at the Toyota Center in Houston.