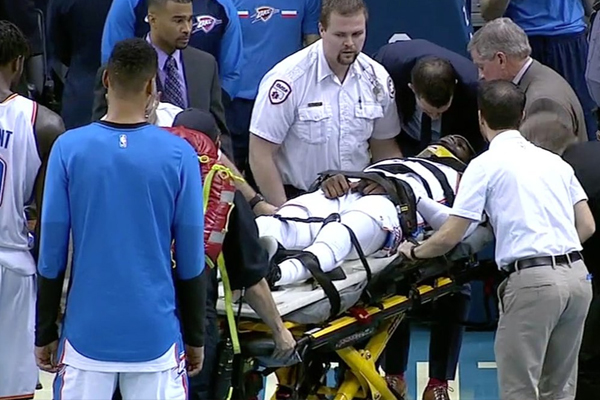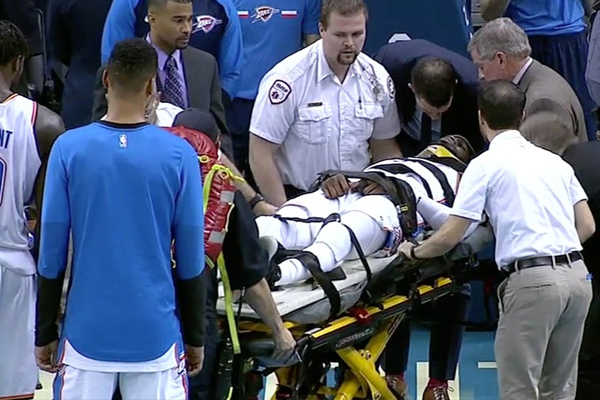 Oklahoma City Thunder's Nerlens Noel was taken off the floor on a stretcher.
Noel took an elbow to the face while contesting a dunk attempt from Wiggins midway through the third quarter. His body appeared to go limp afterward, with nothing shielding his head from bouncing off the hardwood as he crashed down. As Noel was on the ground, with very little movement, Thunder physicians immediately ran onto the court.
Oklahoma is stunned in silence after Nerlens Noel copped a nasty double hit to the head…

Prayers up ? #ThunderUp pic.twitter.com/QDooPkwzgs

— ProBasketballLive (@ProBBallLive) January 9, 2019
Nerlens was taken to OU Medical Center and will be held there overnight to be evaluated. The team did not have any further details on his condition but an update is expected sometime Wednesday.
"I just tried to make an aggressive move and dunk," Wiggins said of the play. "He tried to contest it. I think he fell wrong. I didn't really see it until I saw him on the ground. Hopefully, he's good. I hope nothing but the best for him. I hope he gets healthy soon and comes back stronger."
Wiggins also tweeted good wishes to Noel:
My prayers out to you ?? @NerlensNoel3

— andrew wiggins (@22wiggins) January 9, 2019
Noel had six points on 3-of-4 shooting in six minutes of action at the time of his injury.
***UPDATE***
Nerlens Noel has been diagnosed with a concussion but tests reportedly confirmed the center did not suffer any fractures in addition to the head injury.