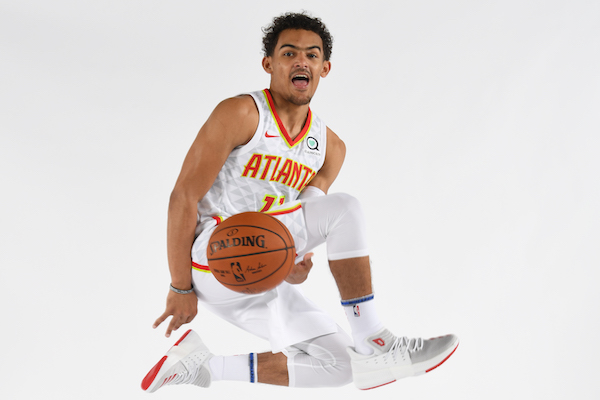 Some people were perplexed by the Atlanta Hawks' decision to trade for Jeremy Lin. He turns 30 later this month and has spent each of the past two seasons battling injuries. Not only that, but they helped the Brooklyn Nets clear space to make a deal with the Denver Nuggets that landed them a first-round pick. The Hawks, for their part, could have targeted that same agreement and that same pick rather than take on a point guard who doesn't fit their timeline.
It seems, however, they had a twofold plan in place. First, they know Lin will put butts in the seats—which is a big deal. The Hawks struggled with strong attendance records even when they're really good. It becomes exponentially harder to sell tickets while they're in the middle of a rebuild.
Next, and most importantly, they're hoping aspects of Lin's approach and attitude can rub off on Trae Young, their prized rookie. The dynamic between the two isn't quite clear—will they start together?—but the NBA newbie is excited to learn from his elder, per The Athletic's Michael Scotto:
To help Young develop as a leader and hasten his learning curve as a floor general, Schlenk acquired Jeremy Lin in a trade with Brooklyn. Lin was a rookie in Golden State when Schlenk worked in the front office there.

"From what I've heard, he's going to be a great mentor for me," Young said of Lin. "We've been talking. He's a good dude. He's been through the highest of highs and the lowest of lows. He's seen it all, so I'm looking forward to picking his brain."
Lin's journeyman path to and around the NBA could certainly be an emotional boon for Young. He was drafted essentially at the expense of Luka Doncic, who many believe to be the more transcendent talent. Their career arcs will forever be linked. Lin is someone who should, in theory, help Young navigate the attention and scrutiny that comes with it—someone who can prepare him for the lows of this connection without losing sight of the potential highs.