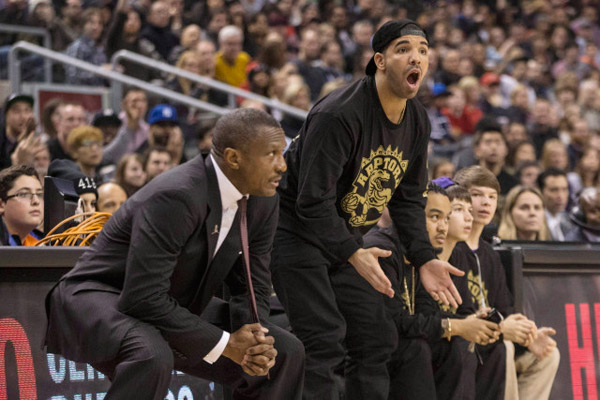 Drake has officially been warned by the NBA.
Why yes, that is a real sentence. Welcome to 2018.
The music mogul, who is also the Toronto Raptors' global ambassador, was reportedly scolded by the league for his two confrontations with Cleveland Cavaliers benchwarmer Kendrick Perkins during and after Game 1 of the Eastern Conference Semi-Finals.
Here's USA Today's Josh Peter with the deets:
The NBA has warned Drake after the rapper's verbal confrontations Tuesday night with Kendrick Perkins, a backup center for the Cleveland Cavaliers, during Game 1 of the Cavaliers' playoff series against the Toronto Raptors, league spokesman Tim Frank told USA TODAY Sports on Thursday.

The Raptors, who have named Drake a global ambassador for the team, also discussed the matter with Drake, according to Frank.

No details about the warning and punishment Drake could face as a result were available. But this season, the NBA has implemented measures designed to crack down on fan misconduct, such as verbal abuse.
For those of you who have seen video of these kerfuffles, well, where have you been? Here's the first one:
Drake and Kendrick Perkins exchanging words ?

(via @KGarea21) pic.twitter.com/6cbRIlJq3g

— Bleacher Report (@BleacherReport) May 2, 2018
And then the second:
Perk and Drake weren't done talking ? *NSFW*

(via @mcten)pic.twitter.com/3jqoDXcWC0

— Bleacher Report (@BleacherReport) May 2, 2018
That we have to talk about Drake receiving an official citation for jawing with NBA players is hysterical—almost as funny as the NBA player he was scrapping with in this instance.
Kendrick Perkins, 33, has only dressed for one of the Cavaliers' first nine playoff games. So of course he's making headlines. Dahntay Jones would be so proud.
To be fair to Perkins, this is part of why the Cavaliers want him around—for that never-say-die toughness, even when it comes to Drake. To be even more fair, it doesn't sound like he was reprimanded by the NBA for his involvement, suggesting his recount to ESPN's Adrian Wojnarowski might be fairly accurate:
In a text message to ESPN, Kendrick Perkins says: "What happened was I was talking to my old teammate Serge (Ibaka) walking into halftime telling him 'We about to win this game,' and Drake butted in talking shit to me. So I said something back to him." https://t.co/sJ3Ntx6zVy

— Adrian Wojnarowski (@wojespn) May 2, 2018
Anyway, here's hoping we can Drake vs. Perk, Round 2.
Then again, don't bet on it. The Raptors are down 2-0 to the Cavaliers and look mentally broken. Unless Drake plans on attending Games 3 or 4 in Cleveland, there's no guarantee he'll come face-to-face with Perkins again.