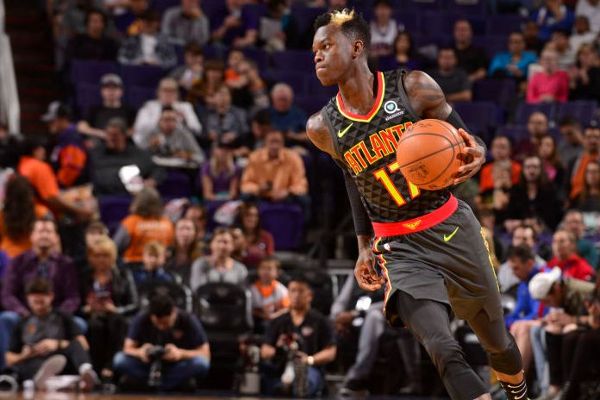 Dennis Schroder is expected to meet with the Atlanta Hawks' front office in the coming days to discuss his future with the team—because, well, apparently his future with the team is up in the air.
With the Hawks gearing up for a extensive rebuild, Schroder isn't quite sure where he stands. Speaking with reporters at a press conference for the German Basketball Federation, the 24-year-old stated as much while also mentioning the Indiana Pacers and Milwaukee Bucks as teams he could see himself repping if he's bounced from Atlanta:
An elaboration from Dennis Schröder about the next few days and the up-coming talks with the @ATLHawks pic.twitter.com/kNAJhdnQ6J

— David Hein (@heinnews) May 14, 2018
Dennis Schröder told a press conference in Germany that @Pacers (he has a good relationship with Victor Oladipo) and @Bucks would be teams he could imagine being traded to: pic.twitter.com/9d9QxBQ8Pj

— David Hein (@heinnews) May 14, 2018
Schroder may be getting ahead of himself here. He's young enough to be part of a rebuilding squad. At the same time, he's not the point guard for the current front office regime. They didn't draft him nor did they give him the four-year extension. He has three years and $46.5 million in guaranteed money left on his deal. With three first-round picks in this June's draft and a ton of cap space, general manager Travis Schlenk could opt to look for a new franchise floor general.
Moving Schroder, though, could prove difficult. He's not universally recognized as a top-15 point guard, and financial flexibility will be scant around the league this summer. More than two-thirds of the NBA will be strapped for cash, and the squads with wiggle room and trade assets won't want to shell out so much money for an unfinished project.
Milwaukee and Indiana specifically should be considered out of the running. The Bucks looked like a potential destination earlier this year before they traded for Eric Bledsoe, but not anymore. The Pacers, meanwhile, have Victor Oladipo, Cory Joseph (picked up player option) and Darren Collison on the books.
If Schroder ends up drawing interest around the league, it'll be from squads without a clear-cut answer at point guard. Think along the lines of the Phoenix Suns or Orlando Magic.