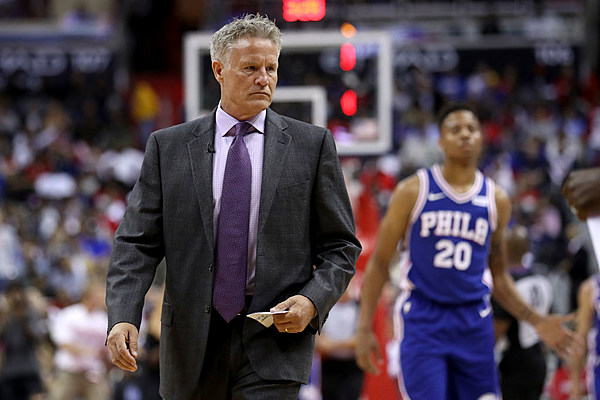 The NBA does not have a four-point line, nor does it appear to be on the relative verge of implementing one. The idea has been kicked around, but as of now, seems too extreme even for this era.
What would a four-point line do to floor balance? Where would the league put it? Would teams just be shooting 30-plus footers all the time? Would Stephen Curry average a 100 points per game? What happens to the role of the non-shooting big man when a four-pointer is in play?
These are legitimate issues and concerns—well, mostly. They'll be talked about as the idea of a four-point line continues to come up. But the Philadelphia 76ers aren't waiting on the league-wide discussion to endorse a four-point line. They're already using one in practice.
From The Wall Street Journal's Ben Cohen (h/t HoopsHype):
It turns out the Sixers believe so much in the power of 3-point shooting that a 3-point line wasn't enough for them. Which is why they added a 4-point line. There is no such thing as a 4-point line in the NBA. Except in Philadelphia. What they call a 4-point line, the light gray semi-circle exactly five feet behind the traditional white line in their training complex, is such an essential part of the Sixers' unlikely success this season that when coach Brett Brown was asked to explain its origins he invited a reporter into his office and took a seat. "I mean, where do I begin?" Brown said

"When you look at modern-day offense, and you try to play a style that I believe in and have for a while," Brown said, "you have to space the floor, you have to shoot threes and you have to create room." Which is why the 4-point line exists in Philadelphia. "We want to take it to a higher level and space further," Brown said. "We want to stretch the court more."
This seems like a pretty awesome idea—one, perhaps, other teams should implement. Pristine spacing may not be a problem for some teams that stretch defenses more organically. But for teams like the Sixers who have a primary ball-handler, in Ben Simmons, that doesn't shoot threes, taking things to the extreme of a four-point line should help them remain cognizant of their floor balance.
This model appears to be working for the Sixers. Although they were 14th in three-point-attempt rate during the regular season, they're fourth in playoffs, according to NBA.com. Players are more aware of where they are on the floor, and it seems that clearing out lanes for Simmons is officially second nature.