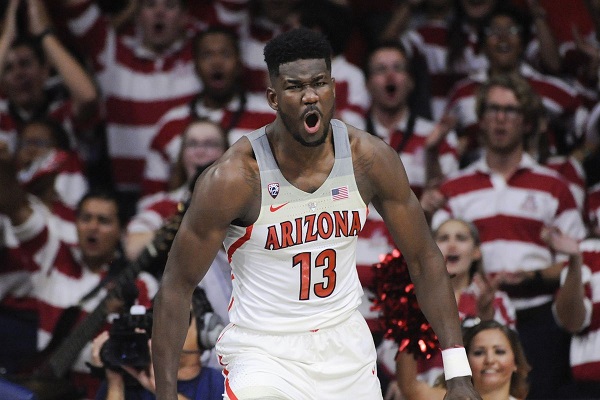 As the NBA season enters its final week and a half, the Phoenix Suns currently possess the worst record in the NBA at 19-59 and as such are likely to have the highest odds to land the No. 1 pick of the 2018 NBA Draft.
That means they could have an opportunity to potentially draft their center of the future in Arizona Center DeAndre Ayton.
Ayton apparently is on board that scenario as he was asked which team near the top of the lottery he would prefer to play for on CBS Sports Radio over the weekend and this was his response:
"Honestly, for my mother, I could see myself in Phoenix," he said. "I could see a little Shaq and Kobe 2.0."
In fairness, Ayton chuckled a little bit after the statement because it would take a lot for Ayton or Booker to reach the heights of Kobe and Shaq, two of the likely 10 greatest players to ever play the game.
Ayton tweeted a response to the Bright Side of the Sun tweet about Ayton's interview:
— Deandre Ayton (@DeandreAyton) April 1, 2018
Ayton averaged 20.1 points, 11.6 rebounds and 1.9 blocks in his one season at the University of Arizona, showing off the talents and potential to become a superstar on the NBA level.
If Ayton does end up going to the Phoenix Suns in the 2018 NBA Draft, he and Booker will instantly be one of the best young duos in the NBA.