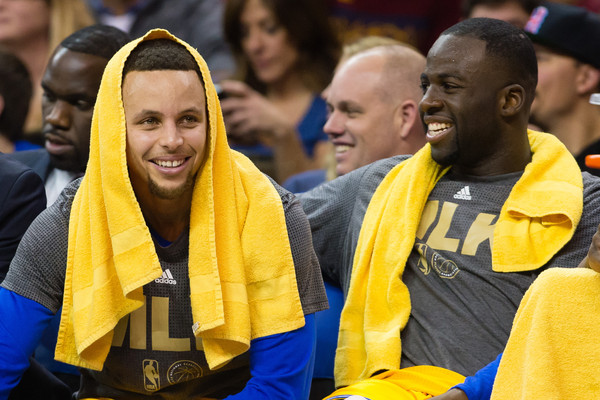 Is there ever a good time to ask Draymond Green whether Stephen Curry is, um, peaking?
That would be a no.
A big, fat, resounding no.
Green was asked this exact question following the Golden State Warriors' shellacking of the Minnesota Timberwolves on Wednesday night, and his response was one of confusion mixed with exasperation cut with a hair of "BRUH."
Take a look at how the exchange went down right here:
Don't ever ask @Money23Green if @StephenCurry30 is… Peaking ??? pic.twitter.com/fFF6EgJib4

— Warriors on NBCS (@NBCSWarriors) November 9, 2017
Let's roll back the tape for a minute:
"PEAKING?????"
Green's reaction here, from his persisting mentions of "peaking" to his facial expression, is positively spectacular. And, more importantly, you can understand where he is coming from.
Curry is having another great season, averaging 25.4 points and 6.4 assists on 47.0 percent shooting overall with a 38.9 percent clip from deep. His player efficiency rating, 28.5, would be the second-highest of his career. Ditto for his true shooting percentage.
Peruse his per-minute production, and Curry's output is closer than not to his MVP-winning campaign in 2015-16, which is largely considered the best individual offensive effort in NBA history.
His game-by-game numbers will never exceed those from his 2015-16 crusade. He doesn't enjoy the volume now that he did then, a tradeoff that comes with playing beside Kevin Durant, and one he'll continue to gladly accept. But his efficiency is right in line with that year-long detonation, an impressive feat no matter the context or measurement.
Still, as Green pointed out in the provided clip, we have seen better from Curry in the past. Perhaps it's easy to forget as much. It does feel like a lifetime ago that he played without Durant. Or maybe we just get caught up in the raw plus-minus. Whatever the reason, this year isn't marking a new high for Curry.
Rather, it's merely an extension, or a repeat, of his default setting.