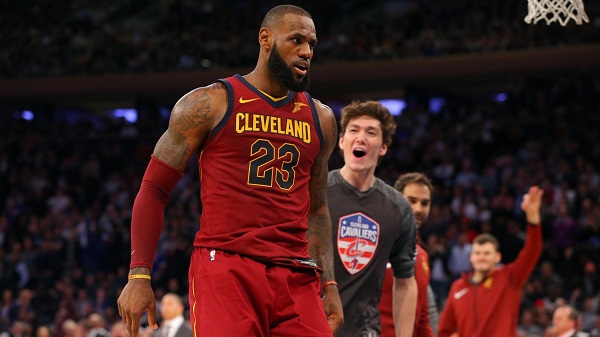 The Cavaliers have struggled mightily this season and at times have frankly looked disinterested.
They were in the midst of another malaise on Monday in Madison Square Garden against the Knicks as they had a paltry and frankly embarrassing 50 points with 2 minutes left in the 3rd quarter and were trailing the Knicks 73-50.
Then Kyle Korver hit a three to show a sign of what was to come as the Cavaliers made their way back into the game.
The Cavaliers entered the fourth quarter trailing the Knicks 76-61 and would play their best quarter of the season thus far.
They rallied back from the deficit by raining an array of three-pointers and finally looking like they cared on the defensive end, playing with the sort of fire we haven't seen them play with since last June.
After Channing Frye nailed a three-pointer to tie the game with 2:16 remaining, LeBron James decided it was time for him to shine in the Mecca of basketball and nail the dagger over Kristaps Porzingis to give the Cavaliers their first lead since it was 25-24…
LeBron James hits the COLD-BLOODED triple to give the Cavs the lead! pic.twitter.com/XYRSIpaJjd

— Cavaliers Nation (@WeAreCavsNation) November 14, 2017
The Cavaliers have finally found their way back to .500 after entering a tailspin the past three weeks or so and this could be the performance that helps elevate them from their lull and ascend back up the eastern conference standings to a more familiar spot for a LeBron James led team.
The comeback wasn't the only story from the game last night, Knicks rookie Frank Ntilkina and Enes Kanter clearly took umbrage to LeBron's comments that the Knicks should have drafted Dennis Smith Jr. at No. 8, which were nothing more than a veiled shot at Phil Jackson.
Here is an altercation between them and LeBron in the 2nd quarter:
Frank Ntilikina gave LeBron James a few shoves. Enes Kanter stepped in and had words with LeBron. MSG crowd gave Ntilikina a loud ovation and chanted his name after they were separated. (Video: @vineydelnegro) pic.twitter.com/XqpKeNOFth

— Michael Scotto (@MikeAScotto) November 14, 2017
The Cavs don't have the pieces at this time to be a good or maybe even average defensive team, but they didn't last year either. What they do still have is a gluttony of shooters to surround LeBron James and open up what is still a top-notch offense even without Kyrie Irving and before Isaiah Thomas's debut.
Kyle Korver has heated up as has J.R. Smith, and it appears that Channing Frye should still find his way into the rotation and play a major role on given nights.
The Knicks are young and will learn a lot from this game, one lesson they should take from this game though is that if you step to the King, you better be ready for the consequences…