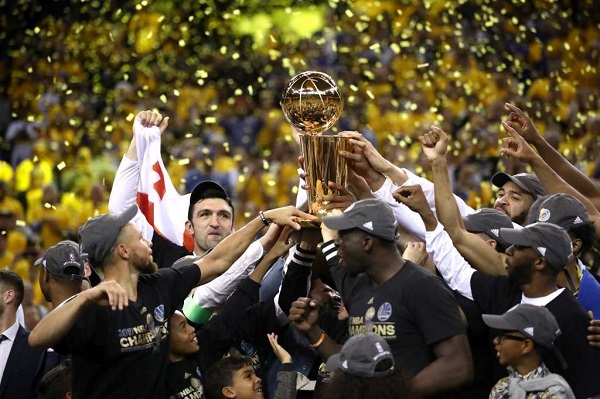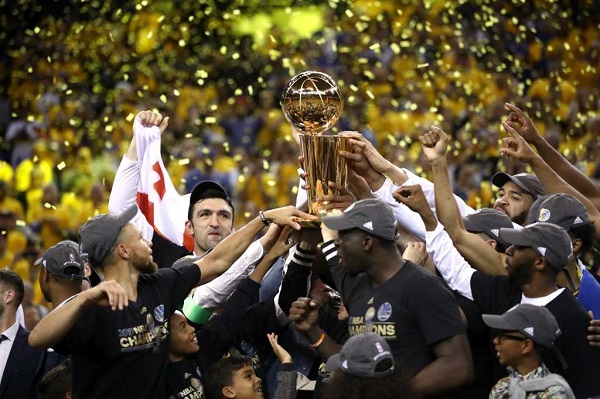 As is customary, although more than slightly ridiculous, the odds makers in Vegas have already released their initial championship odds for the 2017-18 season and as expected, the Warriors are heavy favorites.
Here are the complete odds:
Odds To Win 2017-18 NBA Championship
Golden State WARRIORS 1-2
Cleveland CAVALIERS 3-1
San Antonio SPURS 12-1
Boston CELTICS 15-1
Washington WIZARDS 30-1
Los Angeles CLIPPERS 30-1
Houston ROCKETS 30-1
Oklahoma City THUNDER 60-1
Toronto RAPTORS 60-1
Milwaukee BUCKS 60-1
New Orleans PELICANS 80-1
Philadelphia 76ERS 100-1
Indiana PACERS 100-1
Miami HEAT 100-1
Utah JAZZ 100-1
Portland TRAIL BLAZERS 100-1
Denver NUGGETS 100-1
Minnesota TIMBERWOLVES 100-1
Los Angeles LAKERS 100-1
Memphis GRIZZLIES 100-1
Chicago BULLS 100-1
Detroit PISTONS 200-1
Atlanta HAWKS 200-1
Dallas MAVERICKS 200-1
New York KNICKS 300-1
Charlotte HORNETS 300-1
Phoenix SUNS 500-1
Brooklyn NETS 1000-1
Orlando MAGIC 1000-1
Sacramento KINGS 1000-1
As you can see the Warriors are 1 to 2 favorites to repeat as champions, which in essence means you make $1 for every $2 you bet them to win the NBA title in 2017-18 if they do win their 3rd NBA title in four years.
Here is an excerpt from an ESPN story by David Purdum with a quote from the odds makers about how heavy of favorites the Warriors.
"The Warriors, fresh off Monday night's 129-120 win over the Cleveland Cavaliers to clinch the NBA title, are listed as -200, odds-on favorites to win next year's championship, a historic price on a preseason favorite.

"They're going to be the highest favorite we've ever had going into a season, any team in any sport," Jeff Sherman, NBA oddsmaker at the Westgate Las Vegas SuperBook, told ESPN.
While it's debatable whether this is good or bad for the NBA, there is no denying the Warriors will be the overwhelming favorite to win the title for the foreseeable future with four elite players under the age of 30, even with Kevin Durant and Steph Curry being free agents this summer.
The Vegas odds are really a state of the union address on the status of a certain franchise, for Nets, Magic and Kings fans, I send my apologies.
We'll see if any unexpected series of events take place between now and June 2018 that would lead to the end of thew Warriors domination, at least for a season.