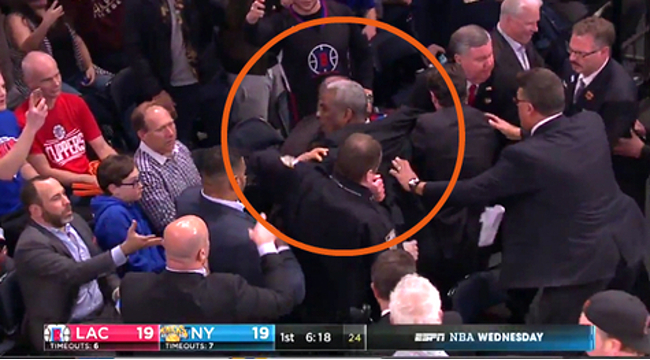 Charles Oakley played 19 seasons in the NBA, most notably 10 for the New York Knicks, and was an undersized, bruising, rebounding machine that served as the muscle for the great 1990s Knicks teams.
He was infamous for being the resident tough guy and bodyguard of sorts (the sort of thing that is almost non-existent in the NBA now, kind of like the fullback in the NFL). He is also known in NBA circles for being Michael Jordan's right hand man and enforcer off the court for years in the latter part of Michael's career.
It appears there is still some fight left in the dog as Oakley got in a shoving match with Madison Square Garden Security Wednesday night during the Knicks game against the Los Angeles Clippers, and was arrested and charged with three counts of misdemeanor assault.
ICYMI: Charles Oakley was escorted out of MSG and arrested after a reported incident with Knicks owner James Dolan. https://t.co/KCF9q4zmuw

— ESPN (@espn) February 9, 2017
Here is the Knicks statement on the situation:
— NY_KnicksPR (@NY_KnicksPR) February 9, 2017
Here are Oakley's statements on the incident to the New York Post:
"I was there for four minutes," Oakley said late Wednesday night. "I didn't say anything to him. I swear on my mother. They came over and wanted to know why I was sitting there. I bought the ticket. I said why do you guys keep staring at me. Then they asked me to leave. And I said I'm not leaving
Here is what was said in a New York Daily News article:
"Oakley told me that he purchased his own tickets and was seated two rows behind Garden Chairman James Dolan. When several Knicks officials became aware of where Oakley was seated, security guards approached Oakley and asked him why he was here."
I am going to have to take Charles Oakley's side on this one, just another example of how the Knicks are the most bizarre and drama-filled franchise in the NBA.