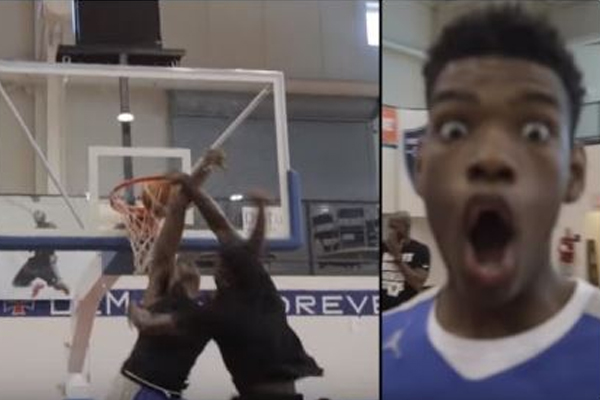 Victor Oladipo like many other NBA players this time of the year is currently participating in a summer basketball camp for youth and high school basketball players.
Oladipo is involved with the camp at DeMatha Catholic High School in Maryland.
Today at camp an irrationally confident and very unwise high school camper decided it was a good idea to challenge the Oklahoma City Thunder's newest asset and the uber-athletic former no. 2 pick of the 2013 NBA Draft.
He wanted to see if Oladipo, a former NBA Slam Dunk Contest participant and a known purveyor of in-game 360 dunks, would be able to dunk on him.
Oladipo accepted said challenge and proceeded to devour the young man's soul…
Victor Oladipo may have just dunked a kid to death ? (via @Therealjtucks) pic.twitter.com/8oCpnLlOjv

— Athlete Swag (@AthleteSwag) July 14, 2016
He not only dunked on this poor, foolish camper, he windmilled on him with authority.
Part of the reason Oladipo may have had such force on his windmill and aggression toward a high school student, is the fact that he himself was dunked on by the camper moments before.
Vic Oladipo @VicOladipo gets PAYBACK in dunkoff at #VO5SkillsAcademy #Feathery https://t.co/v5Lrq0wjoX pic.twitter.com/tPKckHU9L5

— 8Eye™ (@JaimeBoyer) July 14, 2016
This is one of the reason I am grateful for the Snapchat and Vine driven world we live in today, we get to enjoy these hidden treasures. One can only imagine what Dominque Wilkins may have done to a brave young camper in the 1980s.