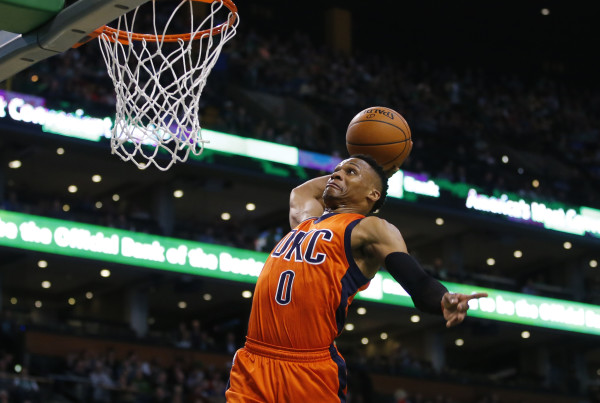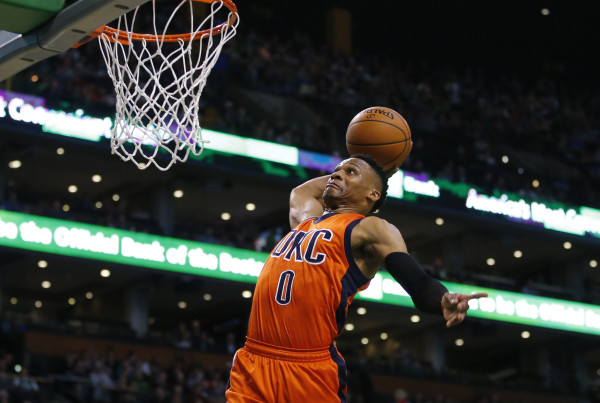 According to a leaked report from GMs around the NBA, many around the league expect the Thunder to deal 27-year-old superstar point guard Russell Westbrook "very soon" as the team gets the feeling he will not re-sign with them in the offseason.
GMs Expect Russell Westbrook To Be Traded Before Start Of Season: https://t.co/2ak2fW7DB7 pic.twitter.com/gmbbyvjy8t

— RealGM (@RealGM) July 13, 2016
This sort of move would mark a complete retool for the Thunder, an organization that has never been shy to pull the trigger on a big move and do it early. They dealt James Harden to the Rockets in 2012, a year before they had to.
According to numerous sources around the league, the Celtics are the front-runner and likely destination for Westbrook. With their pool of assets and in-house talent as a 48 win team that just added Al Horford, their desire to acquire another star will help them become a championship contender.
Report: Rival GMs expect @okcthunder to trade Russell Westbrook, most likely to @celtics https://t.co/5QYB905f4v pic.twitter.com/cFDm7PnsYr

— NBC Sports (@NBCSports) July 13, 2016
This move seems to make sense for all parties and Westbrook's passion and aggression seem to vibe with the city of Boston and their rabid fans perfectly. The Celtics also seem like the team most likely to take the risk of dealing a number of assets in order to rent Westbrook for a year and hope he will re-sign in 2017.
Here are potential packages that the Celtics could put together to acquire Westbrook:
Boston: Isaiah Thomas and Jaylen Brown, Guerschon Yabusele and Brooklyn's unprotected 1st round pick in 2017.
Here is what the Celtics and Thunder's starting lineup would look like in 2016-17:
Celtics:
PG Russell Westbrook
SG Avery Bradley
SF Jae Crowder
PF Amir Johnson
C Al Horford
Thunder:
PG Isaiah Thomas
SG Victor Oladipo
SF Andre Roberson
PF Enes Kanter
C Steven Adams
The Celtics would be an instant serious contender to LeBron's eastern conference supremacy and would be an elite defensive team with their length and athleticism.
The Thunder meanwhile would have an all-star point guard, the no. 3 pick in the draft in Jaylen Brown and the "French Draymond" in No. 15 pick Guerschon Yabusele and another likely top.3 pick in 2017. That is honestly 90 cents on the dollar for Westbrook and would be an incredible trade to revamp their future considering the circumstances.
Here are a few other offers that could be on the table for Westbrook:
Phoenix: Bledsoe, Bender/Chriss, Warren and the 2017 1st rounder from the Suns along or Miami's 2018 or 2020 1st rounder
Minnesota: Kris Dunn, Zach LaVine and Minnesota's 2017 and 2018 1st Rounder
Milwaukee: Khris Middelton, Jabari Parker, John Henson, Milwaukee's 2017 1st rounder
Los Angeles Lakers: DeAngelo Russell, Larry Nance Jr., 2017 or 2018 1st Rounder
Expect these rumors to only heat up in the coming days and don't be surprised if Westbrook is in Celtic green this season…
Rumors getting tossed around about Russell Westbrook to Boston Celtics before season start. Thoughts #NBAFreeAgency pic.twitter.com/6YptqRr2kU

— NBA 2K 2K17 (@NBA2KLegion) July 13, 2016