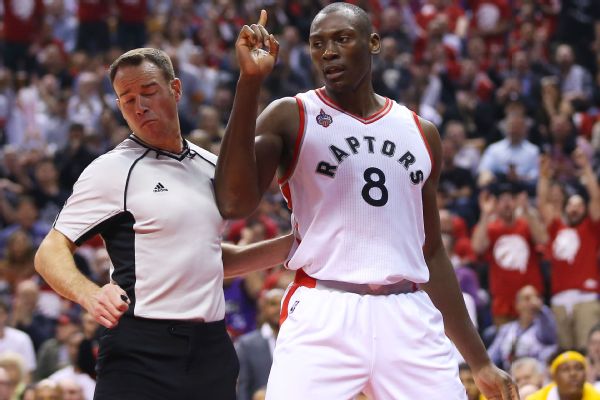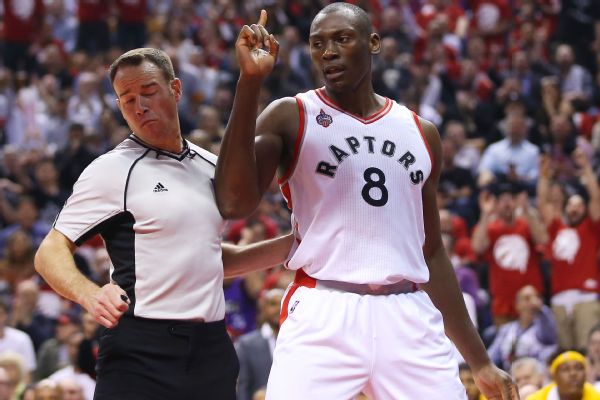 Hey! Remember that one time Dikembe Mutombo loaned Bismack Biyombo the rights to his iconic, post-block finger wag?
Mutombo doesn't, either.
From ESPN.com's Mike Mazzeo:
Toronto Raptors center Bismack Biyombo may not have gotten permission from Dikembe Mutombo to use the retired shot-blocking star's finger-wag celebration, but Mutombo says Biyombo "really doesn't need it."

"You can copy something you like," Mutombo told ESPN.com on Tuesday night. "Bismack is my youngest brother. I have nothing to be mad at him for. I'm so proud of him. We're from the same country [Congo], and I call and text him every day to congratulate him, because I'm so proud of him."
Here's what Mutombo also told TMZ Sports:
"I don't know when did that conversation took place," Mutombo said … "Him and I need to talk this summer."
"He claim in the newspaper and everywhere he said I gave it to him. I said, Did I gave him? Was it family? Cosign? But you know what, he's a young man, man, I let him enjoy the fame. He's making me famous!"
"I will see him in the Congo this summer so him and I will talk back home with nobody around us."
Don't worry, this all appears to be in good fun. I think. Okay, fine, I don't know.
But Mutombo doesn't actually seem mad at Biyombo for copying his celebratory finger wag. To the contrary, he seems amused that the soon-to-be-lucratively-paid 23-year-old is mimicking his moves.
And for Biyombo's part, he kind of deserves this creative license. I mean, have you seen the way he's been blocking shots and grabbing rebounds against the Cleveland Cavaliers in the Eastern Conference Finals? The Toronto Raptors don't knot the series up at two games apiece without him.
Consider this: Only one other player has matched or exceeded Biyombo's current postseason rebounding percentage and block rate while playing in as many games (at least 18), according to Basketball-Reference: Dwight Howard.
Finger wag on, Biyombo. Finger wag on.