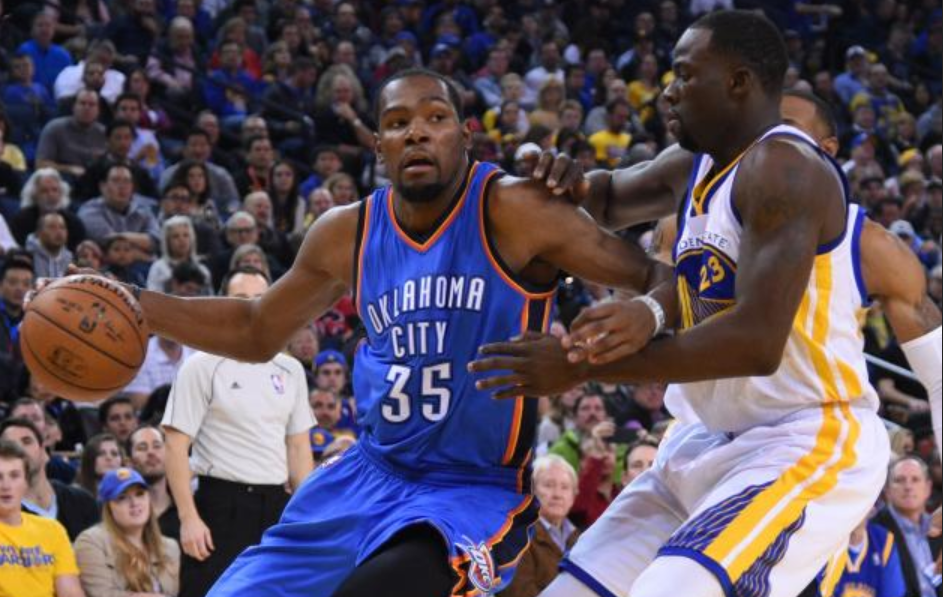 Kevin Durant is not immune to doubt and fear.
It's understandable if you thought otherwise, given the way he performs on the basketball court, displaying almost an effortless-looking greatness. But contrary to what his size and length and skill set implies, he is human. And as a human, he was naturally scared for his NBA future after suffering a broken foot that required three surgeries in a span of six month last season.
As he told Sports Illustrated's Lee Jenkins:
He averaged 28.2 points, 8.2 rebounds and 5.0 assists on 50.5% shooting, incinerating any long-term concerns about his foot. "I was scared, I was worried," Durant says. "Will I be back again? Will I be who I am? A year ago people were telling me my career might be over and I listened to that stuff, not because I'm sensitive but because I used it for fuel. I've always done that. When I was a sophomore in high school, I scored 28 points in my first varsity game, and I was feeling myself. They're loving me right now! Then I got in the car afterward and my mom [Wanda] was like, 'You didn't do s—. You didn't play well enough.' I was like, O.K., cool. It was the same thing with the foot. The doubt feeds me."
That relatable feeling lasts only briefly, but it's clear Durant wasn't ignorant of the hot takes and concern that permeated the NBA sphere last season.
Foot injuries to bigs—and Durant, standing at nearly 7'0″, is a big—are fickle setbacks. The way he moves, while fluid, is explosive and sharp. The fear that he could be forever affected by his injury was a legitimate one.
Not anymore, of course. Durant has buried that doubt. He played at an MVP level once again during the regular season, and now he has his Oklahoma City Thunder on the verge of beating two of the best teams in NBA history, the San Antonio Spurs and Golden State Warriors, to reach the NBA Finals.
Correct, Durant, one year after many wondered whether his career was in jeopardy, has seldom been closer to winning his first NBA championship. Even for those who have no rooting interest in him or Oklahoma City, there is some poetic justice to where he is now, compared to where he and the Thunder sat last season.