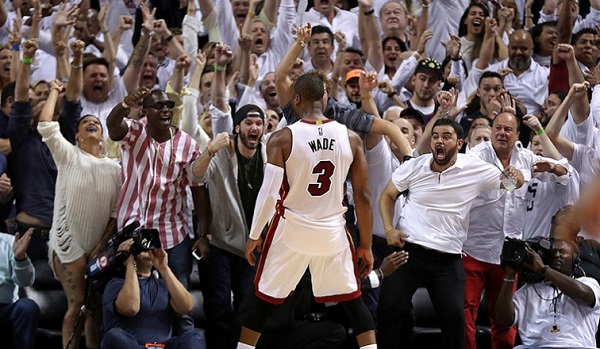 The Miami Heat are limping through the NBA postseason at this point, with all-star forward/center Chris Bosh and double-double machine Hassan Whiteside currently sidelined. Despite all of that and poor shooting as a team they are still tied 2-2 in the eastern conference semi-finals because of the heart and grit of their leader Dwyane Wade.
Wade has averaged 27.3 points, 6.3 rebounds and 3.3 assists on 49% shooting and 60% three-point shooting in the 2nd round.
He has also scored 38 points and 30 points in Games 3 and 4 on 52% shooting from the field.
At the age of 34, with plenty of tread on his tires, he has always played the game in a very aggressive and physically taxing way. Wade doesn't posses the level of quickness or athleticism that he did even 5 years ago, but he has managed to be as effective in this postseason as he has in quite some time because of his creativity as a player and his natural ability to rise to the occasion as the lead dog for a team.
Wade's trademark half Euro step pull ups and floaters in the lane are as synonymous with Wade and as memorable a move as Dirk's one-legged fadeaway or Kareem's sky hook.
He has become such a master of angles and reading defensive tendencies that he is still able to operate at an elite level as a scorer with a reliable jump shot beyond 18 feet and the ability to finish over defenders at the rim consistently.
In Game 4 Wade scored 11 of his 30 points in the closing moments or overtime, as well as scoring the game tying bucket to send the game to overtime and delivering the knockout punch with his sneaky pick pocket of Terrance Ross to give the Heat a 94-87 lead with seconds remaining.
Dwyane Wade with the exclamation point! https://t.co/6VJ2b3qYWA

— NBA TV (@NBATV) May 10, 2016
Wade is one of the five greatest shooting guards in NBA history and has that special leadership and will to win trait that only the true greats possess.
He has far and away been the best player in this series and and has been one of the five best players in the entire 2016 postseason, something few would have expected.
He has been the one constant and the heart and soul of the Miami Heat organization since being drafted 5th overall by the Heat in the 2003 NBA Draft. He is relishing the opportunity to be "the guy" again in Miami as the Heat desperately need him to be superhuman in order to have any chance of advancing in the postseason like they did pre-LeBron.
Wade may not have many great seasons or postseason moments left in him at the age of 34, but he is having one right now and proving once again why he is one of the better players to ever play the game.
The Heat should have no chance to advance to the eastern conference finals amidst their slew of injuries, but I have a hunch that Dwyane Wade's sheer will may be just enough to get them there.