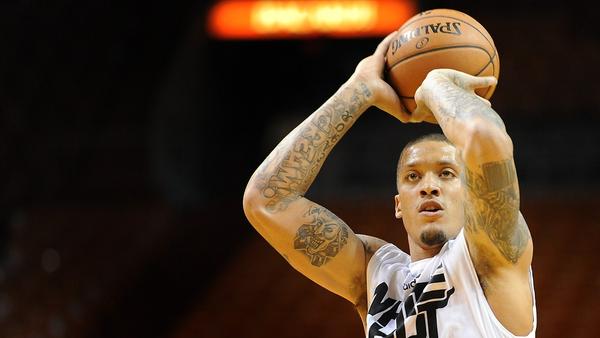 According to ESPN NBA Reporter Marc Stein, Michael Beasley's impressive play for the Shandong Golden Stars of the Chinese Basketball Association has given him an opportunity to return to the NBA for the first time since 2014.
Sources say Michael Beasley is en route to Houston to sign with the Rockets on a rest-of-the-season deal … with a team option next season

— Marc Stein (@ESPNSteinLine) March 2, 2016
He was averaging 31 points to go along with 13 rebounds and three assists per game in the CBA. He also shot over 50% from the field and 38% from three-point range. Beasley won the league MVP award this season
He was the number two pick of the 2008 NBA Draft by the Miami Heat and has averaged 13 points and five rebounds in his 433 career NBA games.
He has dealt with a number of maturity issues and some legal issues while a member of the Phoenix Suns, being pulled over for marijuana possession on more than one occasion.
There is no denying Beasley's talent, especially as a small-ball 4 in today's NBA, but his attitude, level of maturity and lack of effort have led to him being a huge disappointment in his career thus far.
While his play in China may have earned him another opportunity he will have to prove that he can be a valued member of an NBA franchise and effectively fill a role if he wants to stick around this time.
This signing by Houston seems odd on numerous levels as they have a number of skilled forwards who can score and handle the ball such as Trevor Ariza, Terrance Jones, Josh Smith and even Corey Brewer and other talented young guys who need more time like Montrezl Harrell and Donatas Montejunas. I don't see how Michael Beasley fits into their style of play and ideology about the most efficient and analytical way to play offensive basketball by shooting only three pointers and paint shots. Beasley is well-known for his low shot IQ and propensity to deep twos.
This move doesn't make sense on a chemistry level as well as the chemistry of this team is clearly in shambles and bringing in a mercurial player like Beasley to a team lacking leadership and unselfishness seems like a questionable move to me.
Then again, Beasley has always had a lot of talent if he could get out of his own way. Maybe he will prove me wrong. Time will tell.