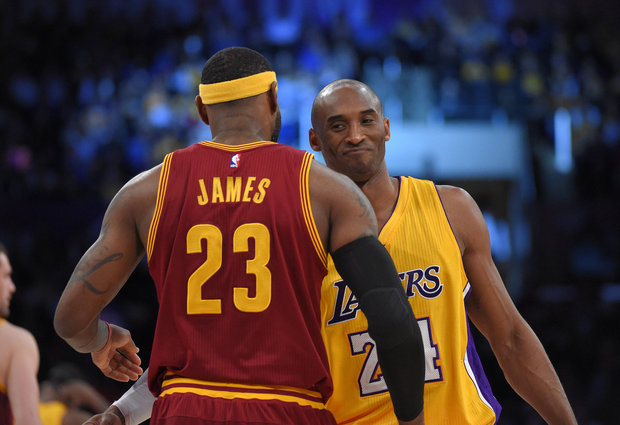 Although we never got to see the dream NBA Finals match up of Kobe vs. LeBron that we desired for almost a decade, last night was still substantial as it was the last time the two greatest wing players since the Jordan era would ever square off on a basketball court.
It was a fun night as the Cavaliers won a 120-108 shootout in Los Angeles and LeBron had 24 points including a few highlight dunks and Kobe looked like his vintage self for a night, scoring 26 points on 11-for-16 shooting.
While You Were Sleeping: LeBron and Kobe faced each other one last time. https://t.co/TtDmGRAVTq

— Mike & Mike (@MikeAndMike) March 11, 2016
King James faced off a total of 22 times in their careers with LeBron clearly getting the best of Kobe with a 16-6 record against Kobe.
LeBron averaged 28.2 PPG and shot 46% from the field in his 16 wins, while Kobe averaged 24.6 PPG and shot 42% from the field in his six wins in the series.
Here is a tweet with the complete breakdown of their first 21 match ups before last night:
Kobe vs. LeBron in 21 meetings. Final time is next.

(Obligatory "5 rings to 2" comment.) pic.twitter.com/18CkXfKJva

— Hardwood Paroxysm (@HPbasketball) March 11, 2016
This tweet shows how they have changed from their first battle to their last.
LeBron James walks away with the edge in head-to-head matchups against Kobe Bryant, going 16-6 vs the Black Mamba. pic.twitter.com/BhTcJFZJjE

— SportsCenter (@SportsCenter) March 11, 2016
Kobe and LeBron raged as the number one basketball debate for years as those either argued for LeBron's all around dominance or Kobe's killer instinct. They even reportedly were discussed in a swap at one point in 2007…
Although it feels like their rivalry never manifested into what we had hoped and dreamed it would, it is a sad day that we will never see these two legends face off against one another again.