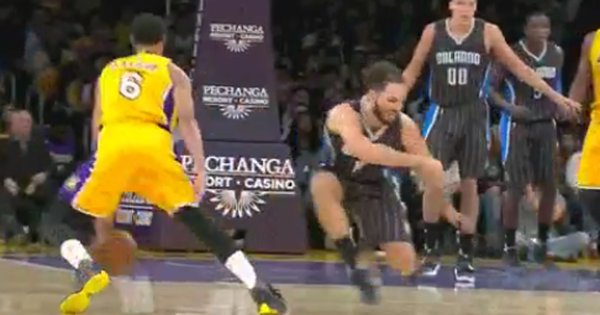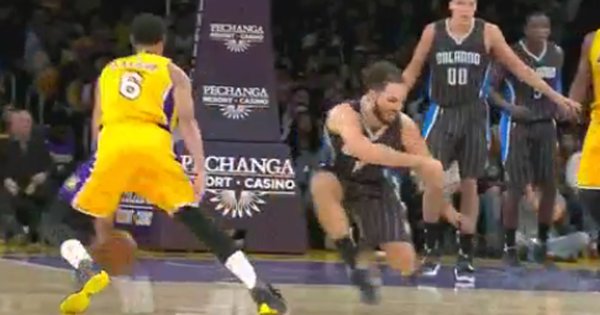 The Lakers young back court of Jordan Clarkson and D'Angelo Russell have been playing pretty well as of late and the Lakers won their second consecutive game Tuesday night, taking down the Orlando Magic 107-98 in Los Angeles.
Although the game featured plenty of highlights, including some sharp shooting from the Lakers and this windmill dunk by the most entertaining non-superstar in the league in Aaron Gordon…
Aaron Gordon with the windmill slam! #AirGordon https://t.co/z5mmVegsfa

— NBA SKITS (@NBA_Skits) March 9, 2016
The play of the game may still have been when Jordan Clarkson had Evan Fournier doing the stanky leg in the 2nd quarter and followed it up with a deep three.
.@JClark5on shook Evan Fournier something dirty last night ??

WATCH: https://t.co/a1q9jF8Ky2https://t.co/eADT8Chhgz

— SLAM Magazine (@SLAMonline) March 9, 2016
The crossover was so nice Lakers rookie Larry Nance Jr. literally didn't know what to do with himself…
Larry Nance Jr. had the best reaction to Jordan Clarkson's crossover ?https://t.co/FoAngJcgQn

— Bleacher Report (@BleacherReport) March 9, 2016
Unfortunately Evan's going to have to hear about this one from his teammates for quite some time.