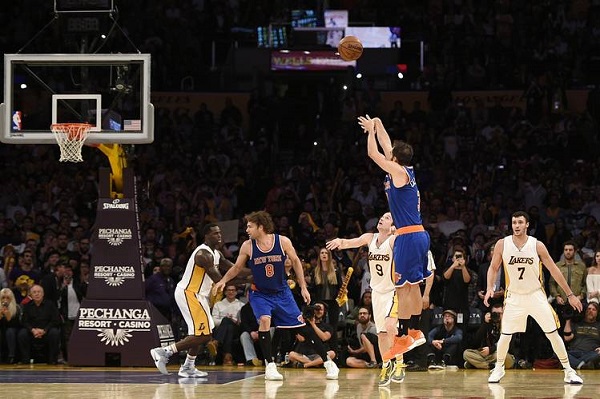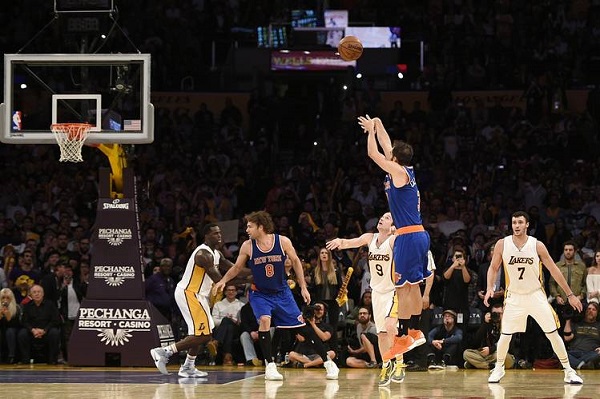 The battle of the two biggest markets in the country took place Sunday evening in the Staples Center, as the overpaid and underwhelming New York Knicks battled the cellar dwelling Los Angeles Lakers.
This was the second of an NBA double-header of sorts as the Cavaliers took down the Clippers earlier in the afternoon 114-90.
After a hotly contested battle between the Knicks and Lakers in Kobe and Carmelo's last game against one another, the Knicks had the ball with less than five seconds left. With the game tied at 87, Jose Calderon did his best MJ from the 1998 NBA Finals impression by creating space on Lakers guard Marcelo Huertas and nailing a deep three with 0.2 seconds remaining.
Jose Calderon's late trey wins it for the @NYKnicks! #NBAvine https://t.co/QHoItXfrpC

— NBA (@NBA) March 14, 2016
The Knicks are currently sitting at 28-40, seven games out of the 8th seed in the Eastern Conference with only 14 games remaining.
They will need a lot more of this magic and a truck load of luck if they want to avoid missing the postseason for the 11th time in the last 15 years.