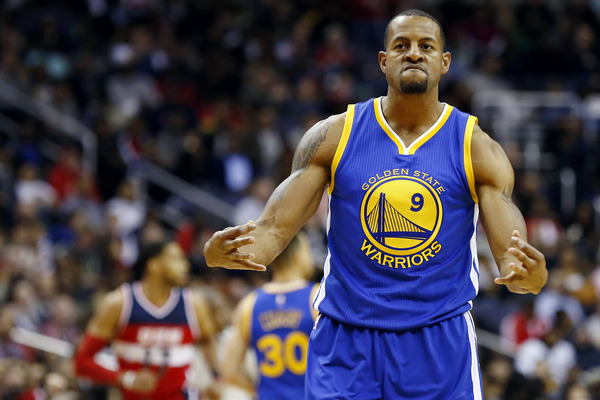 The Golden State Warriors are still waiting on Andre Iguodala.
As head coach Steve Kerr said, the reigning NBA Finals MVP isn't yet ready to return from an ankle sprain that has kept him on the sidelines since March 12, per Marc J. Spears of The Undefeated:
Warriors coach Steve Kerr says Andre Iguodala is still "a ways away from playing" and Festus Ezeli is "progressing nicely" & playing 2-on-2.

— Marc J. Spears (@MarcJSpearsESPN) March 27, 2016
Although the Warriors can survive without Iguodala, as they continue to show, this still blows.
First off, the small-ball "Death Squad" hasn't earned nearly enough run this season. The lineup that features Harrison Barnes, Stephen Curry, Draymond Green, Iguodala and Klay Thompson has now had to endure protracted absences from Barnes and Iguodala. That lineup is, statistically, among the most dominant ever, per Basketball-Reference, so the less we get to watch it, the worse off our lives really are.
Mostly, though, this makes you wonder if Iguodala will be healthy enough not only for the start of the playoffs in April, but in time to play during the game that awards the Warriors their 73rd victory. They are going to get there. They have seven wins to go with nine games left to play. They could be going for the regular-season win record as early as Saturday, April 9, in a matchup with the Memphis Grizzlies.
That's less than two weeks away. And while Iggy's long-term health is more important than him being on the floor for the Dubs' 73rd victory, it just wouldn't feel right if he missed out, considering how understatedly important he is to their historical dominance.