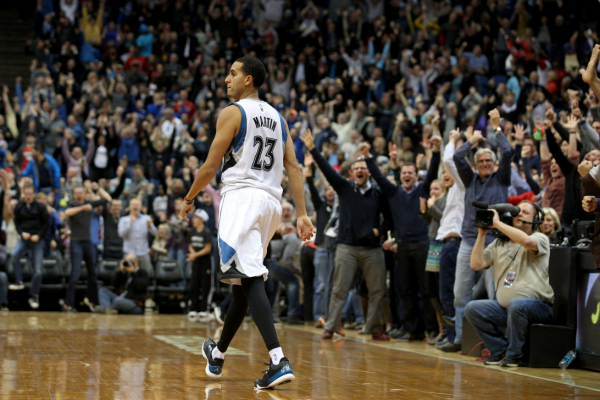 Kevin Martin probably hasn't played his last game for the Minnesota Timberwolves.
Then again, he just may have.
Martin registered his third straight "Did Not Play" in Monday night's loss to the San Antonio Spurs, and although he's healthy, he shouldn't expect to see more playing time—or any playing time—in the future, per Jerry Zgoda of the Star Tribune:
Wolves interim coach Sam Mitchell prefers Andrew Wiggins play shooting guard, recognizes Zach LaVine is more suited for that position than point guard, and said Saturday he is committed to playing rookie Tyus Jones since he was recalled Tuesday from a successful six-game NBA Development League assignment.

Judging by comments made by Mitchell and Martin, Saturday's decision could become routine until Martin is traded.

He spoke briefly on the subject, saying "with respect to my teammates and the organization, we're going to keep it in-house right now. Both sides know what each other wants. There will be a time to talk about it, but it's just not now."

Mitchell said he and the team must look to the future.
This was always a crossroads Martin and the Timberwolves were going to reach. The 32-year-old can still play. He's shooting under 40 percent from the floor overall but better than 37 percent from deep. He's an ideal catch-and-shoot marksman for a contender in need of additional firepower.
But the Timberwolves aren't a contender. They have a ton of young guns to worry about. Hell, they have a bunch of old guns to worry about. Kevin Garnett won't be falling out of the rotation anytime soon, and both Andre Miller and Tayshaun Prince are on the docket as well. There is only room for so much veteran play on a team that needs to develop its fledgling prospects.
The good news is it shouldn't take Martin and the Timberwolves long to find a solution—so long as they're looking for one. Neither Martin's demeanor nor public comments has proved especially damaging, and he's on a digestible deal that's paying him $7.1 million this season and $7.4 million next season, assuming he exercises his player option.
If Martin wants to be moved, and the Timberwolves are willing to move him, then he can be moved.