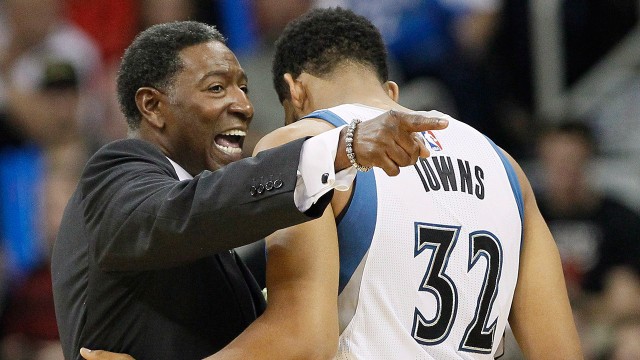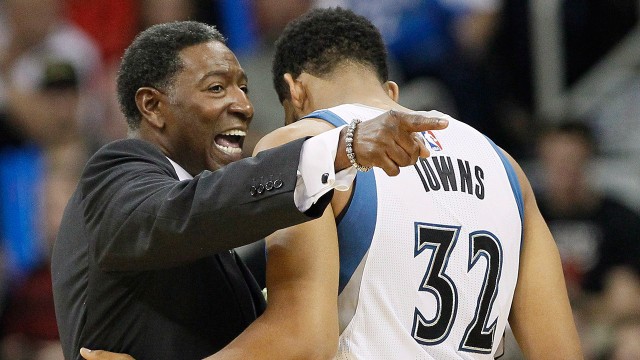 Sam Mitchell, head coach of the Minnesota Timberwolves, has something he needs to get off his chest.
His players need bigger chests. And biceps. And triceps. They just need to gain weight in general.
The Timberwolves, henceforth referred to as the Timberpups, are one of the NBA's early feel-good stories. With so many projects on the roster, they were projected to plummet down the Western Conference standings once more, just as they did last year. The passing of coach, president and part-owner Flip Saunders also shook the organization to its core. The Timberwolves handled his passing with class, but his absence didn't figure to help matters. He was the architect of Minnesota's rebuild, a great man, both on and off the hardwood, who would be missed, both on and off the hardwood, perhaps impacting the Timberpups' focus and development.
Yet, no doubt in part because they're playing for Saunders, the Timberwolves are off to a "hot" start. They're just 2-2 through four games, but this is a team that won 16 tilts all of last season. Karl-Anthony Towns has been a dream come true, Ricky Rubio is hitting more jumpers, Kevin Garnett seems to be reaching the youngsters, Andrew Wiggins looks good even when he's not playing, the defense ranks among the league's top eight, per NBA.com, and the foundation in general, with its unique blend of veterans and youngsters, looks more legitimate than ever.
On the heels of a 96-84 loss to the Miami Heat on Thursday night, though, the Timberwolves were reminded of far they still have to go.
Rookie stretch forward Nemanja Bjelica remains raw and is trying to recapture his preseason magic. Zach LaVine and Wiggins are still sophomores. Shabazz Muhammad's role, as well as his commitment to defense, remains unclear. Rubio's perimeter game is still a work in progress. No one on the team is even averaging 30 minutes per game. That's how much of a project this team is, how unproven it is.
Head coach Sam Mitchell, in fact, put the Timberwolves' early season progress in perspective, per Ira Winderman of the South Florida Sun Sentinel:
Sam Mitchell on young 'Wolves, "Let's give these guys three years to develop and gain some 'man weight.' "

— Ira Winderman (@IraHeatBeat) November 6, 2015
#ManWeight
This reads like something KG would say, and perhaps he already has. It's also accurate and pertains to more than the individual weight of each Timberpup.
This team is fun. It can be fast. It can defend. It has enough high-end young talent to where you can see the outline of a future threat.
It's just not a threat right now, not a real one.
The Timberwolves will win more games than last year, many of them contests they're supposed to lose, but their season isn't about wins and losses.
It's about the young and the old, growing up, together, record be damned.