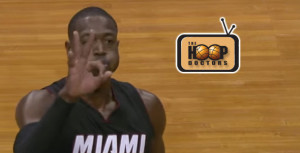 Thursday night was Dwyane Wade's, as his Miami Heat emerged on top 96-84 against the Minnesota Timberwolves to kick off their brief two-game road trip on a high note.
From the get go, the Heat took the lead and never looked back, mainly thanks to Dwyane Wade and his vintage performance of 25 points on 11-for-17 shooting, five rebounds and two dimes.
Three of his points though, came from this ridiculous buzzer beater from half court which gave Wade and the Heat a 10-point cushion heading into the second half.
Please enable Javascript to watch this video
That all said, what did you think of Wade's three point celebration? Blowing up threes?