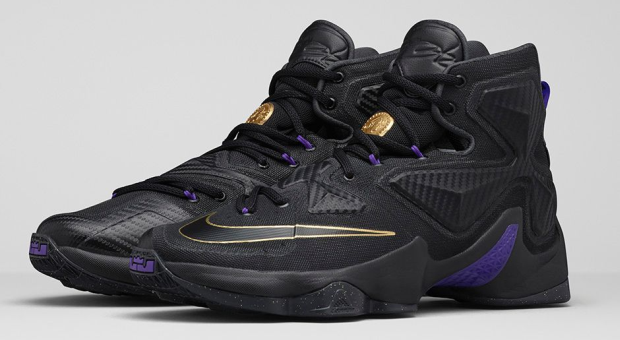 The latest signature sneaker for LeBron James continues to pick up stream with this new, regal colorway.
Officially called the Nike LeBron 13 'Pot Of Gold', this new colorway is mostly black with deep purple and metallic gold accents. I fully expect DeMarcus Cousins to throw these on for a few games this seasn as Boogie is a known fan of the LeBron series & these go perfectly with the Sacramento Kings uniform colors.
Along with with the sneaker, a set of Nike 'Pot Of Gold' apparal is also coming out featuring unique HyperElite socks, graphic t-shirt, and knit beanie all designed to match perfectly with this new LeBron 13.
The 'Pot Of Gold' Nike LeBron XIII (13) releases on Wednesday, November 25th for $200.