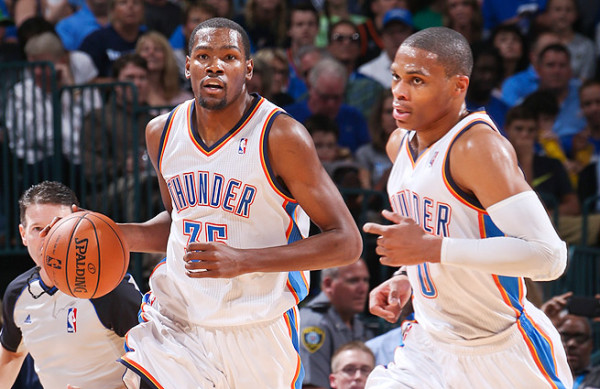 Kevin Durant is so sweet.
Following the Oklahoma City Thunder's 103-98 loss to the Toronto Raptors on Wednesday night, a game in which Durant and crew led by as many as 12 points, the 2013-14 MVP threw a hefty compliment Russell Westbrook's way, per NewsOK.com's Anthony Slater:
Interesting comment in postgame. Durant, while talking about the Thunder's offense on Wednesday night, called Russell Westbrook "our best player." KD is humble. Westbrook has been brilliant. I can't say I disagree, especially if we are just using these past five games to judge. But still an interesting comment coming from the former MVP.
Interesting indeed.
Westbrook has been mostly fantastic through the Thunder's first five games this season. He's also attempted 12 more shots than Durant, including six more during Wednesday night's fourth-quarter collapse.
This isn't an insult, nor is it fodder to fuel the "Durant is totally leaving Oklahoma City" conversation. At this point, it just is. And it is not a problem. Westbrook is a point guard. By design, the ball should be in his hands more, even with Durant being one of the NBA's preeminent point forwards. And unlike seasons past, Westbrook is, as of now, shooting at an uber-efficient clip. His field-goal percentage has never been higher. Ditto for his three-point success rate. His turnover ratio is on track to be the worst of his career, but that happens when you're still maintaining a usage rate north of 35, according to Basketball-Reference.
The Thunder's offensive pecking order is not the problem, and this, presumably, isn't Durant's way of throwing shade at Westbrook for taking more shots down the stretch than him. It's the Thunder offense in its entirety that's the problem.
Oklahoma City has, for the most part, been more inventive on that end of the floor with Billy Donovan on the sidelines. But they still fall into frequent scoring lulls, the ones that are dominated by isolation sets and poor shot selection. It's been a trademark of theirs for years, dating back to Scott Brook's early days at the helm. And the Thunder, quite simply, are too talented for that to happen.
Whether it's the offshoot of different coaching or poor decision-making or some combination of the two, the Thunder must get used to assuming a more systematic, passing-friendly approach. They've done a nice job incorporating additional screens and ball movement thus far, but that they're still prone to fits of anemia punctuated correctible mistakes remains troubling.