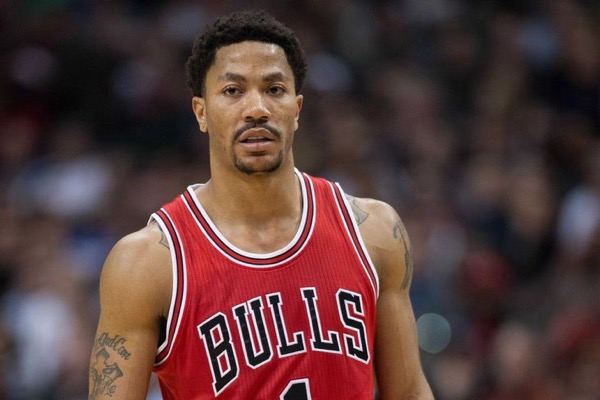 Over the last few years, Derrick Rose's relationship with the Chicago Bulls organization hasn't been what you would call strong.
Or even remotely good.
Things seemed to take a wrong turn back in 2012-13, when Rose was actually medically cleared to play but ended up sitting out the entire season anyway. Rumors of mutual frustration have since flooded the NBA community. Most of them have recently been tied to Rose's apparent distaste for Jimmy Butler, or at least the way he's wedged in on the point guard's territory, becoming the face of the franchise at a time when Rose, due to his health and increasingly less-effective play style, will no longer suffice. Aside from this—both players have repeatedly denied that any ill will exists between them—the speculation factory mostly just churns out scorching hot, read-between-the-line takes anytime Rose says something remotely unclear or controversial.
Knowing how much fans and pundits can be hungry for sensationalized storylines, it's easy to shrug all this conjecture off, interpreting it as meaningless noise that won't cease its volume until Rose remains healthy for an entire season while also returning to MVP form—the latter of which is, at this point, an unreasonable request.
But ESPN.com's Brian Windhorst thinks everything that has transpired is more than just empty noise.
Appearing on ESPN Radio's "Russillo & Kanell" Wednesday, he not-so-subtly suggested that the dissolution of the Rose-Bulls partnership is already underway (via NESN.com's Pat Bradley):
ESPN NBA Insider Brian Windhorst joined ESPN Radio's "Russillo & Kanell" program Wednesday and insinuated that the Chicago Bulls could be growing tired of former MVP Derrick Rose.

"Here's how I feel about Derrick Rose: The breakup with the Bulls has begun," Windhorst began. "I don't know how long it's going to last, I don't know when it's going to be complete, but you can sort of see it. The team and the franchise have moved on, to a little bit of a certain extent.

"… It's not Derrick Rose's fault that his knee got hurt, OK? But his attitude has been not terrific. The comments that he made about his contract in 2017, you want to talk about being tone deaf …"
These are all legitimate points. And it would be foolish of anyone, even the most devout Bulls and Rose supporters, to ignore how uncannily tenuous the relationship between he and the franchise is for someone of his stature. It's weird.
That doesn't mean the Bulls will trade Rose. That's not what Windhorst is saying. Chicago cannot trade Rose. He has two years, including this one, and more than $41.4 million left on his deal. No team is absorbing that in the wake of his injuries and declining productivity.
Maybe next summer, when Rose is on an expiring contract and the free-agency market has dried up following the cap boon, some team would be willing to take a chance on Rose's stock. Until then, even if they don't want to be, Rose and the Bulls are stuck together.
More likely, they're stuck together until at least 2017, when Rose reaches free agency himself.