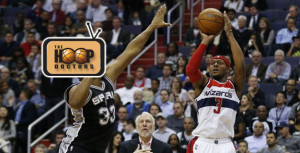 The San Antonio Spurs were looking end their three-game road trip on a winning note when they paid the Washington Wizards a visit at Verizon Center last night. Bradley Beal wasn't so certain.
Things almost went according to plan for Greg Popovich and company as they held on to the lead after three quarters. But little did they know that the final period was when the Wizards finally found their magic and made things very interesting to the very last minute.
One final play decided this thrilling match-up and the hero in this one was Bradley Beal, who nailed the game-winning three-pointer to give the Wizards the win, 102-99, and send the Spurs back home with a heart-breaking loss.
Please enable Javascript to watch this video