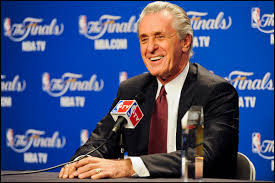 Pat Riley is an optimist.
For this summer at least.
Good ol' Riles isn't one to sugarcoat his opinion. He tells shit like it is, just as he did after the Miami Heat's 2014 NBA Finals loss to the San Antonio Spurs, delivering a purposeful, albeit subspoken, message to his Big Three, the entirety of which was gearing up for another foray into free agency. Depending on which of the many various reports that followed in the ensuing weeks and months, Riley's speech either rubbed LeBron James, who would leave for the Cleveland Cavaliers, the wrong way, or it was a sign that he would stop it at nothing to rebuild and retool the Heat as necessary until they earned another trip back to the promised land.
Or both.
Well, according to Riley himself, the Heat are ready for that last part, for that trip back to the promised land. As he said to Dan Le Batard on ESPN Radio, per Barry Jackson of the Miami Herald (h/t CBS Sports):
Speaking publicly for the first time since June, Heat president Pat Riley told ESPN Radio's Dan Le Batard Show that this revamped Heat team has all the pieces of a champion.

"I think this team has all of the elements of a championship team," he said. "Whether or not you can ever win a championship will depend on a number of factors. I can list them and you can list them. It's going to come down to this, health,… performance and this guy and that guy. It's going to come down to can you make shots?…

"I think this team has the opportunity and the possibilities of being a contender. That's where you start with a team like this. We have an opportunity to create a new first. That's how I feel about this team…. I'm excited about this season."
Riley would go on to provide a disclaimer, telling Le Batard that he was "asking the wrong guy" because he was a coach and remains super close to this situation. Shoot, he's the architect of next season's team. He's not about to tear it down.
To be fair, the Heat are an intriguing bunch. Their projected starting lineup, which has logged exactly zero time together, of Chris Bosh, Luol Deng, Goran Dragic, Dwyane Wade and Hassan Whiteside is absolutely terrifying on paper. They've pieced together a nice supporting cast as well, adding Amar'e Stoudemire and Gerald Green to platoon that still includes Mario Chalmers, Josh McRoberts, Udonis Haslem and Chris Andersen.
This team is absolutely going to compete in next year's Eastern Conference. But they are not in the same league as the Cavaliers, the only East-coast team that doesn't have its immediate future tethered to a crap ton of non-negotiable ifs.
The Heat are instead part of that clusterfuck of a middle class, the one that includes teams like the Chicago Bulls, Toronto Raptors, Atlanta Hawks and Washington Wizards, as well as the Milwaukee Bucks, Detroit Pistons, Charlotte Hornets and Boston Celtics. If things break right, any of those teams, specific to the Eastern Conference landscape, can be really good. The Heat are no different. They may be more intriguing than others, because of whom they employ, but they have questions of their own, ranging from the health of Bosh and Wade, to the continuation of Whiteside's 2014-15 rise, to the viability of their supporting cast.
Will the Heat legitimately contend for a title, establishing themselves as, let's say, one of the three-best teams in the East? It's questionable. It's possible, but it falls short of likely. And while that may be a cop out, it's the only appropriate approach to a team that has so much going for it but, as a collective, hasn't proven anything.