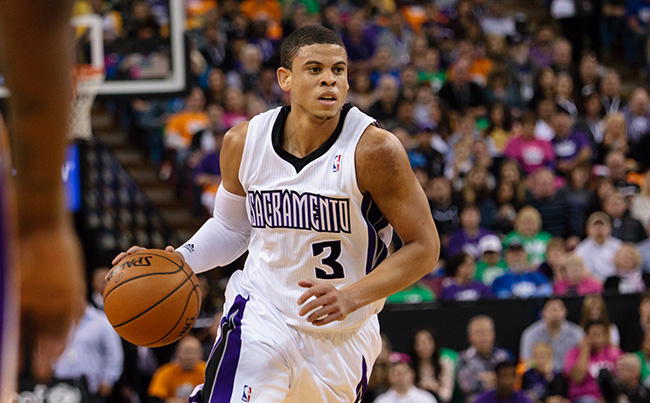 Some thought the San Antonio Spurs would struggle to round out their bench after signing LaMarcus Aldridge.
Those people are now bearing witness to the entire Spurs contingent taking a dump on their front lawn.
The Spurs, against all logic, were able to retain Danny Green, Boris Diaw, Tim Duncan and Manu Ginobili even after signing Aldridge. And then they reeled in David West on the veteran's minimum.
Now they've found a replacement for the departed Cory Joseph, who became collateral damage as part of Aldridge's arrival and signed with the Toronto Raptors, by dealing for Ray McCallum of the Sacramento Kings.
Per ESPN.com's Marc Stein:
The San Antonio Spurs, as part of their ongoing roster restructuring, have struck a deal to acquire Sacramento Kings point guard Ray McCallum, according to league sources.

Sources told ESPN.com that the Spurs, as early as Friday, will swap a future second-round pick for McCallum, whom San Antonio pegs as a replacement for the outgoing Cory Joseph.

McCallum with join a roster that includes point guards Tony Parker and Patty Mills.

The Spurs had to renounce the rights to Joseph as part of their push to create the needed salary-cap space to sign LaMarcus Aldridge away from the Portland Trail Blazers.
Drafted 36th overall in 2013, McCallum has been used sparingly by the Kings through his first two NBA seasons. It's likely he plays far less in San Antonio, a title contender bent on polishing off projects like McCallum behind the scenes and during garbage time.
Still, McCallum is an intriguing pickup. He's only 24, and Tony Parker, 33, isn't going to be around forever. At the very least, as 33 becomes 34 becomes 35 becomes 36, he'll need to see his playing time decrease. Patty Mills and, should he stick, McCallum can help the Spurs smooth out that aging process.
Not unlike Joseph himself, McCallum comes to the Spurs in need of a three-point stroke. He's shooting just 32.9 percent from long range for his career, a clip that's bogged down by his 30.6 percent conversion rate from last season.
He did, however, put in 37.3 percent of his long balls as a rookie, including 39.1 percent of his catch-and-shoot missiles, per NBA.com. Spot-up success, previous or otherwise, is an asset the Spurs can work with and accentuate.
Expect McCallum, who is owed a qualifying offer after next season, to really find his offensive groove as a member of the Spurs—aka the team that just keeps getting better and better and better and better.