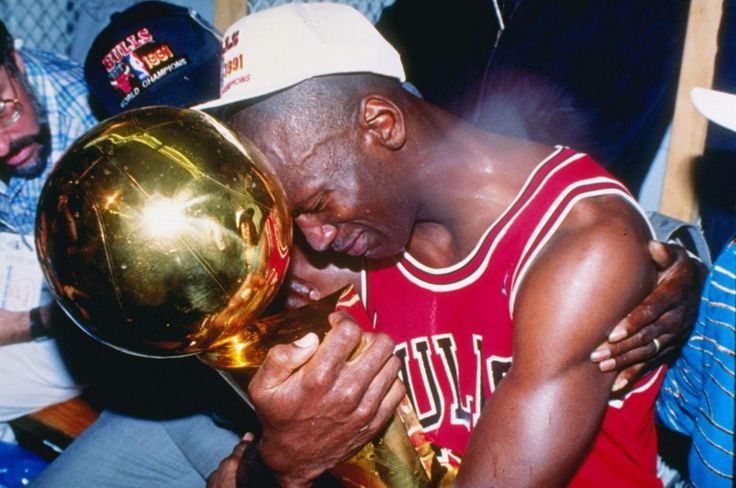 Alas we are here, the final round of the purely hypothetical 64 player dream tournament to determine the best player to ever grace the NBA hardwood.
We have traversed all eras in NBA history from the Russell's and Wilt's of the 1960s to the modern era which is dominated by stars such as LeBron and Kevin Durant.
Countless debates have been had and all of the NBA's legends and most revered players of every era have been eliminated leaving only two men standing for the illustrious and exalted moniker as the best player in NBA history: Michael Jordan and Kareem Abdul-Jabbar.
These two men have combined for an incredible 12 NBA championships, 11 regular season MVP awards, eight NBA Finals MVP awards, 20 First-Team All NBA appearances and 70,679 points in their NBA careers.
Kareem is revered for his mastery of the post-game and unmatched longevity while Jordan is worshipped for his otherworldly athleticism, desire and domination of the league for a decade.
Kareem kept the league afloat with his dominance through the 1970s and early 80s while Jordan was and still is a transcendent icon who made the game of basketball a global phenomenon. "His Airness" was and still is a marketing icon who was instrumental in the creation of the multi-billion dollar sports apparel industry.
Kids growing up in the 70s dreamed of being Kareem but to this day everybody still wants to "Be Like Mike".
Let's determine the best player in NBA history:
Michael Jordan vs. Kareem Abdul-Jabbar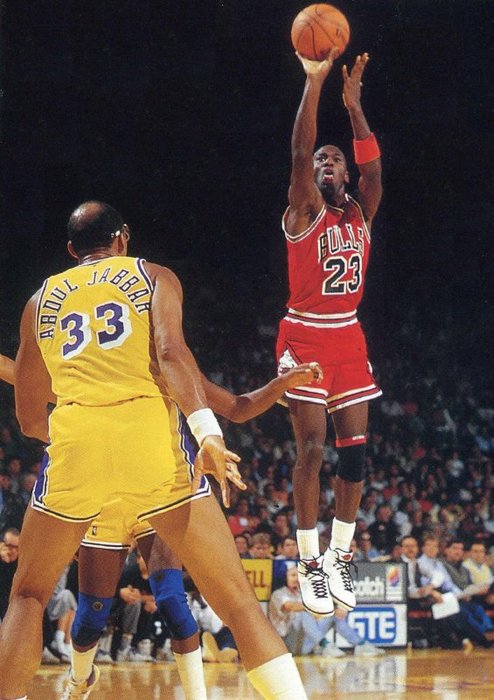 Tale of the Tape:
Jordan:
30-6-5 on 50% shooting including six NBA championships, six NBA Finals MVP's, five regular season MVP's, ten 1st Team All-NBA appearances, nine scoring titles and nine 1st team All-Defensive appearances
Kareem:
24-11-3-2.5 on 56% shooting over a 20-year career that included six NBA championships, six MVPs, two NBA Finals MVP's, ten 1st Team All-NBA appearances, 19 all-star appearances. NBA's all-time leading scorer.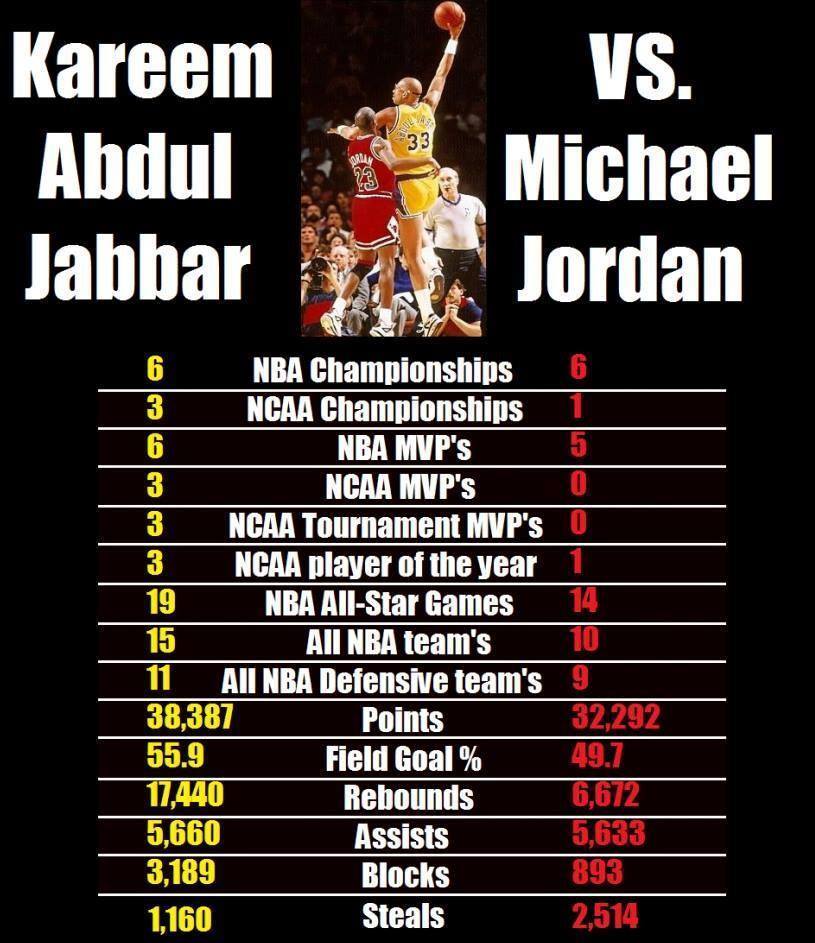 Five year peak:
Kareem:
30-15-4-3 54% from the field 72% from the free throw line and three MVP awards.
Jordan:
32-6-6-2 with 84%-52%-31% shooting with two regular season MVP awards and three NBA Finals MVP awards
Postseason Career Stats:
Jordan:
33-6-5-2 82%-50%-33%
Kareem:
24-10-3-2 74%-53%
NBA Finals record:
Jordan 6-0
Kareem 6-4
Best Playoff Performance: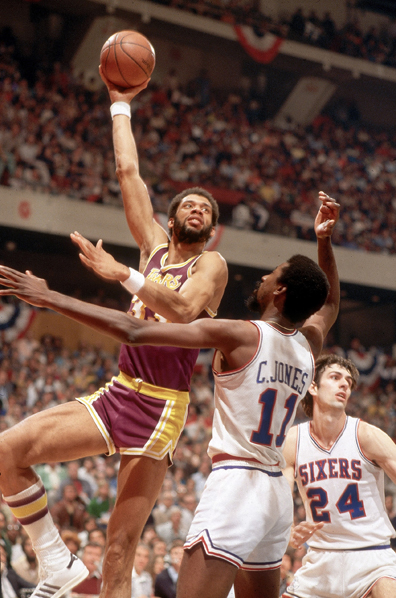 Kareem:
Averaged 33 and 14 in the 1980 NBA Finals before an ankle injury sidelined him for Game 6 and a rookie you may have heard of named Magic Johnson played the center position and had maybe the greatest playoff game of all time with 42 points, 15 rebounds and 7 assists to win the title.
Jordan:
Jordan completed the first of his two three-peats with a truly masterful and probably the best NBA Finals performance of all-time with an incredible 41-8-6 stat line on 50% shooting from the field and 40% from the three-point line to oust Charles Barkley and the Phoenix Suns in six games.
Kareem is the NBA's all-time leading scorer while Jordan is fourth, but Jordan has the greatest Player Efficiency Rating in NBA history (PER) at 27.6 while Kareem is 12th at 24.5
We've broken down the numbers about as much as we can to compare these two greats and anoint the greatest player in NBA history but at the end of the day the eye test and their effect on the game of basketball and pop culture are just as important in determining the best player to ever play the game.
As accomplished as Kareem was, it is clear that Michael Jordan is the most transcendent talent the NBA or maybe any professional sports league for that matter has ever seen. His incredible success (six titles, five MVP's, etc.) combined with the flash and personality to match the substance, made him a global icon to this day and helped elevate the game of basketball and modern sports apparel industry to new heights. He had a mixture of world-class athleticism, grace, grit and determination that hasn't been duplicated and the NBA wouldn't be the worldwide sport that it is today with foreign superstars such as Dirk Nowitzki or Manu Ginobili without Jordan's presence.
So as I'm sure you all knew the answer to who is the greatest player in NBA history is a very easy one: Michael Jordan.
Records were made to be broken as they say and nobody can be at the top of the mountain forever, so although someday someone may take the crown from Jordan as the greatest ever or at least make it a more valid debate (LeBron?), no one will ever have the impact on the NBA and the sport of basketball as Michael Jordan did.