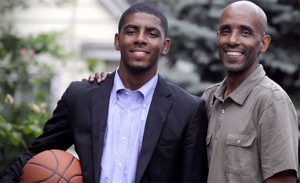 It's pretty clear Kyrie Irving will not be healthy the rest of the Finals, assuming he's even healthy enough to play. His injury last night was tough to watch and have to wonder how the Cavs will fare without him.
Kyrie's father met his son in the locker room when he left the game and apparently papa Irving and Kyrie's agent are at odds.
There's been some tension between these two sides for weeks now. Irving's father and Wechsler, sources said, have been preaching caution with Irving and this knee issue. Naturally, they are focused on his long-term health and have concern that playing on a weakened knee — what the Cavs have said publicly was a bad case of tendinitis — could put him at risk of suffering a greater injury. Going to see Andrews was part of the entire group's efforts to get a full handle on what Irving was facing and get independent advice on the situation.

Of course on the other side, the Cavs want Irving to play as long as he's not seriously hurt. As Irving was limping through the start of the conference finals against the Hawks, it was easy to identify some mild friction. As Irving was preparing to get a second opinion, there was a sense he was being challenged to play through it.
H/t: espn