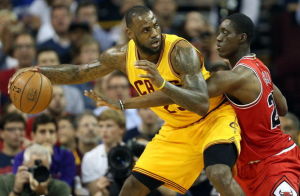 With the Bulls and Cavaliers even at two games apiece, an exciting game five showdown was inevitable and expected from both squads.
On Tuesday night, indeed both teams weren't giving in without a fight. With the game winding down to its final minute the Cavaliers were able to hold off a Gasol-less Bulls' team and take a 3-2 series lead. Although it was Lebron's defense down the stretch on Rose that will be the talk of the web today, we shouldn't overlook his impressive offensive output with 38 points. Many when it mattered most.
Please enable Javascript to watch this video
Without a doubt, game six in Chicago will be a tight battle. I for one, can't wait.