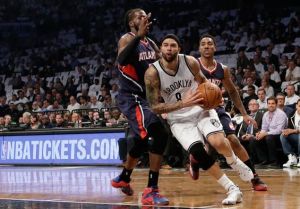 A lot of criticism has been bombarding Nets' point guard Deron Williams regarding his ability to be his old dominant self—the one who was once hailed as one of the top three point guards in the league.
On Monday night, Williams came back to life with an explosion of 35 points in their game four victory (120-115) over the Hawks, which matches his playoff career-high. He added 5 rebounds, 7 assists, and 7 threes to help even up the series at 2-2, as they head back to Atlanta for a pivotal game five.
That was definitely vintage Deron Williams.
Benjamin Felix Santos is an aspiring NBA writer, who bleeds the purple and gold. His love and passion for the game will never die.
Follow @biefsantos