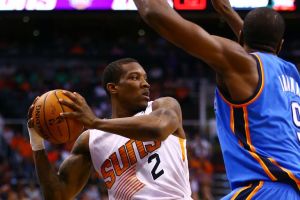 Thanks to a spirited effort from Eric Bledsoe, the Phoenix Suns escaped Russell Westbrook's second consecutive triple-double and edged the Oklahoma City Thunder 117-113 in an overtime thriller Thursday night.
Bledsoe tallied 28 points and dished nine assists while tallying a season-best 13 rebounds and four blocks. Markieff Morris scored a game-high 29 points, and the Suns improved to 31-28 on the year.
Most importantly, Phoenix closed out a contested finish, a task that Jeff Hornacek's squad has been routinely unable to accomplish during the 2014-15 campaign.
Suns are smiling in the huddle. They have NO IDEA what this feels like to seal a close win. NO IDEA.

— Dave King (@DaveKingNBA) February 27, 2015
However, that inability to consistently pull away in key moments will doom the team over the final month-and-a-half of the season, no matter its outlook on paper.
Despite losing five straight outings from Feb. 8 to Feb. 23, the Suns currently sit a mere 1.5 games outside of eighth-seeded OKC, and their upcoming schedule is favorable, to say the least.
If Phoenix can topple the slumping San Antonio Spurs on Saturday night, Bledsoe and Co. have an excellent opportunity to rip off six consecutive victories. Though the Suns must hit the road after hosting San Antonio, they'll oppose the Miami Heat, Orlando Magic and Brooklyn Nets—all sub-.500 teams.
So in this hypothetical world, Phoenix would hold a 35-28 mark, likely situated on the cutoff line of the playoff picture alongside the Spurs, Thunder and New Orleans Pelicans.
But following that potentially rewarding stretch, the Suns must return to their reality of the Western Conference—a faction of the NBA that hasn't been kind to them.
To date, Phoenix has posted a middling 16-20 mark against the West, including a 6-15 clip against franchises that are above Hornacek's crew in the standings. Unfortunately for the Suns, 13 their final 16 conference opponents possess winning records.
Granted, shipping Isaiah Thomas and an unhappy Goran Dragic elsewhere has allowed Phoenix to unleash Bledsoe as the go-to scorer. While the sample size is undoubtedly small, the 6'1″ point guard has looked outstanding so far.
This game has turned me into a full-fledged, stock-owning, banner-waving believer in Eric Bledsoe.

— Andy Bailey (@AndrewDBailey) February 27, 2015
The Western Conference, on the other hand, won't be any easier to navigate even after the lineup change. The Suns can expect numerous tight finishes down the stretch, which hasn't been their forte.
There's certainly been a bit of bad luck involved; Blake Griffin, Khris Middleton, James Harden and DeMarcus Cousins have each netted buzzer-beaters to knock out Phoenix in deflating fashion. But the Suns haven't performed well enough to avoid those last-shot scenarios.
Phoenix has trudged to a 7-16 record in games decided by five points or less and a 1-4 mark in overtime battles. What's more, the Suns have burnt out in contests with a final margin of no more than three points, losing 10 of those 12 games. Their only victories came at the hands of the Detroit Pistons and Minnesota Timberwolves.
Simply put, that's not winning basketball in the 2014-15 edition of the absurdly competitive West.
One week from now, the Suns very well may have ascended into the eighth seed. With Bledsoe, Morris and Brandon Knight and a formidable core of reserves available, there's little reason for the team to not win at least three of the next four outings.
But then, Phoenix's unfortunate reality will reappear.
Barring an unexpected change of fortunes against conference foes and in late-game scenarios, the Suns' stay on the desired side of the bracket will only be temporary.
Unless otherwise noted, stats are courtesy of Basketball-Reference.com and are accurate as of Feb. 27.
In addition to his work for The Hoop Doctors, David Kenyon contributes to Bleacher Report and Sportsnaut. You can follow him on Twitter: @Kenyon19_BR.