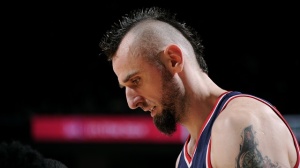 Nothing out of the ordinary happened during the fan vote for the 2015 NBA All-Star Game starters.
The injured Kobe Bryant won a starting slot that he won't get to exploit, Anthony Davis was recognized for his dominance, Carmelo Anthony snuck into the starting five by reputation alone and Marcin Gortat nabbed more votes than Kevin Durant.
Really, then, there's nothing to talk abo—WAIT, WHAT?
Yes, it's true. Gortat, along with 14 other players, received more votes than Durant:
Fifteen players finished with more votes than MVP Kevin Durant. #AllStar2015

— HoopsHype (@hoopshype) January 23, 2015
Marcin Gortat received more votes than Kevin Durant. I don't know what to say.

— HoopsHype (@hoopshype) January 23, 2015
Here are the official results as well, just so you know we're not playing some kind of insanely pointless joke:
The final #NBAAllStarNYC Balloting presented by @Sprint Results. pic.twitter.com/HDKtYJPi1b

— 2015 NBA All-Star (@NBAAllStar) January 23, 2015
Some of you, like I initially did, are probably trying to justify this.
The Polish Hammer received roughly 25,000 more votes than KD because he wasn't injured.
And because the Washington Wizards are playing well.
And because Gortat is playing well.
And because the East is short on talent.
And because the Polish vote is strong.
And because, again, KD has missed 19 games.
And because…ugh, let's just stop.
As it turns out, while all these things undoubtedly factored into the results, the answer to this oddity isn't simple or logical or, frankly, even believable.
Des Bieler of The Washington Post expands:
So Gortat managed to pick up well over 400,000 votes in just the past two weeks, perhaps reflecting an increasing recognition among NBA fans of the strong season Washington is having, although that logic did not apply to the East-dominating Hawks. Maybe Wizards fans simply proved to be really strong at stuffing the ballot box.

What's interesting about the voting dynamic between Gortat and Durant is that one might have thought that the Wizard built up a sizable early advantage while the Oklahoma City forward sat out the season's first 17 games with a foot injury. Instead, Durant had 191,881 votes after the first round, then his support seemed to flatten, as he had just 254,448 on Jan. 1 and 330,297 on Jan. 8.
I mean, holy hell.
There is clearly more frontcourt competition out west, which makes life harder on someone like Durant who has missed time. But damn. He's the reigning MVP and a superstar. Not five years ago, Gortat was buried behind Dwight Howard on the Orlando Magic's bench.
It's crazy how things work out sometimes.
Worry not, though, KD Nation. Durant exacted his revenge on Wednesday night, before the official results were even released:
Now, with all this in mind, let us all prepare for Durant to leave Oklahoma City and sign with Washington next summer in free agency.
He's not ignorant enough to pass on the opportunity to play beside fan-favorite—even more so than himself—Marcin Gortat, right?