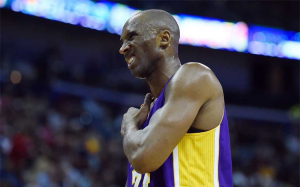 Last night against the New Orleans Pelicans, Kobe played pretty solid through three quarters before going down with an apparent shoulder injury. Kobe returned later in the game to the surprise of fans, but was still hampered by the pain as he resorted to shooting jumpers with his left hand.
After a post-game MRI, the results are now public that Kobe in fact tore his rotator cuff. He will be meeting with Team Doctors tomorrow to review the severity of the tear….
The MRI on Kobe Bryant's right shoulder showed "a tear of the rotator cuff." Full press release attached: pic.twitter.com/2GAd8Vzw3L

— Mike Trudell (@LakersReporter) January 22, 2015
Should the tear be significant Kobe could be looking at an extended period of recovery, and a good chance of shutting things down for the season.
Many questions will be on Lakers' fans minds over the next 24-48 hours, but the most pressing will be whether or not Kobe considers retirement should the road to recovery be a long one.