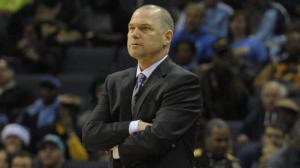 When the Sacramento Kings decided to give Mike Malone the shaft, almost everyone was surprised.
Including Malone himself.
Sure, the Kings were under .500 at the time and in the midst of a 2-7 stretch, but they had shown progress under Malone, beginning 2014-15 at 9-5, their best start in nearly 10 years. Malone's dismissal also came during a stretch in which the team was without star DeMarcus Cousins, who was sidelined by viral meningitis.
Talk of a need for pace and more innovative offensive schemes in mind, Malone's departure felt weird. Wrong, even. The kind of thing you could picture Malone himself going off about it. But he didn't.
In an interview with CSN Bay Area's Bill Hernia, Malone remained classy when discussing his unceremonious dismissal:
"I was surprised given the progress the team was making but being around the NBA, I know the rigors of the business," Malone told CSN California in an extensive phone conversation.

Ranadive and D'Alessandro cited "philosophical differences" as the reason for the dismissal.

Malone remains grateful and upbeat in demeanor.

"I want to thank Vivek for giving me my first head coaching opportunity in the NBA. I'm forever grateful and wish nothing but the best for the Kings." …

"I was proud of how we as a team and as a staff put forth maximum effort and competed." …
"I also want to thank the fans of Sacramento. A coach cannot ask for more support and I want them to know how much I appreciated them."
Now, it's not like Malone was some clipboard-wielding sage who guided the Kings into powerhouse territory. He was 39-67 during his stay in Sacramento, hardly an eyes-extracting showing. But the Kings did appear united under his command. Cousins was growing, Rudy Gay was efficient, Ben McLemore was finding his range and Darren Collison looked like a starting point guard.
Fortunes-turning progress isn't made overnight either. That the Kings were (probably) fated to hover around .500 for the rest of this season, even if with Cousins, wouldn't have been a failure. It would have been part of the process—one Kings ownership and management dissected and dismembered by firing their head honcho.
All of which is fine. If the Kings and Malone really started to diverge stylistically, it was most definitely in the team's best interest to find someone more its speed. The reasoning behind their decision was never the problem.
Timing and execution were. They still are.
Malone isn't a coach who should have been back this season. If the Kings wanted him gone—which they clearly did—he should have been shown the door over the offseason, when philosophical differences would have been easier to accept and understand. Instead, this move wreaked of a franchise holding its coach and players to unrealistic expectations. And while the bitter taste of the Kings' timing and execution may fade, the fact that Malone handled this situation better than them never will.
Dan Favale is a firm believer in the three-pointer as well as the notion that defense doesn't always win championships. His musings can be found at Bleacherreport.com in addition to TheHoopDoctors.com.