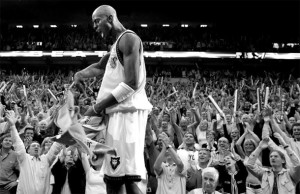 Over the next several years, we will probably begin to see former players become owners of NBA teams. It would be good for the game and better than no-name billionaires who have no sports acumen.
Kevin Garnett is likely in his last season and has his sights set on things beyond playing ball. KG would eventually like to own the Timberwolves. It would be a great way for his career to come full circle.
Brooklyn Nets forward Kevin Garnett doesn't want to be an NBA general manager or coach when his playing days are over. The Minnesota Timberwolves' all-time leading scorer has his eye on an even higher position with his former NBA franchise.

Garnett told Yahoo Sports he wants to one day own the Timberwolves.

"I want to buy the Timberwolves. Put a group together and perhaps some day try to buy the team. That's what I want," Garnett said after a 107-99 loss to the Golden State Warriors on Thursday night.

Timberwolves president and coach Flip Saunders is Garnett's former coach with the franchise, which is rebuilding and expected to miss the playoffs once again. But the team does have several young talented players: 2014 No. 1 draft pick Andrew Wiggins, Ricky Rubio, Gorgui Dieng, Nikola Peckovic, Anthony Bennett, Shabazz Muhammad and rookie Zach LaVine.

For Garnett, it's all about his history with the franchise.

"That is the one that has my interest. I have ties there. Flip's there," said Garnett, 38.
H/T: Yahoo!