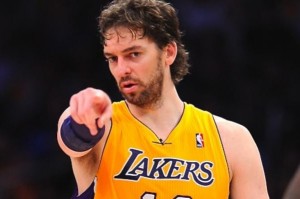 Try as we might to ignore it, NBA players are people too.
Living, breathing souls just like the rest of us. They feel. They bleed. They enjoy the occasional snifter of brandy or, in the young at heart's case, sporadic glass of chocolate milk decorated with a crazy straw.
Point is, they're not robots. They're human.
More human than most at this stage of his career is the Los Angeles Lakers' Pau Gasol, a four-time All-Star turned recurrent trade fodder. For years, the Lakers have been using him as bait, as a means to land a bigger, better player. At 33, frequently injured and posting inconsistent stat lines, those days are gone.
Once upon a time, the package was never quite good enough. The players coming to Los Angeles in return never quite star-rific enough. Sure, there was Chris Paul. But that fell through, because: David Stern.
Since then, the Lakers have undoubtedly had opportunities to move Gasol, they just haven't. Again, they valued him for what he could do. He meant more to the Lakers' ceiling than any player he could bring back in return. If it was a star, then they'd consider it.
These days, they're considering whether to move him for luxury-tax relief. True story.
According to ESPN's Ramona Shelburne and Brian Windhorst, the Lakers and Cleveland Cavaliers held discussions on a potential Andrew Bynum-for-Gasol swap. The move is appealing to the Lakers only because of their ability to waive Bynum before Jan. 7 and reap serious financial gains.
Weird that we're here, right? Well, it gets weirder. And more awkward.
NBA.com's David Aldridge is hearing that a deal between the Lakers and Cavs is unlikely, meaning purported attempts to move Gasol will have failed. Again.
"It's not easy," Gasol admitted of incessant trade rumors, per ESPN's J.A. Adande. "As much as I'm used to it after three years of several [years of potential trades], it's not easy."
One can only imagine what Gasol has gone through since winning his second championship in Los Angeles. The waiting. The potential fear. The uncertainty. He's been linked to every Tom, Dick and Harry over the last few years, and you can tell it's wearing on him just by the way he talks. The man seems emotionally defeated, almost as if he expected this part of his relationship with Los Angeles to be over. And he probably did.
After Dwight Howard signed with the Houston Rockets, there was no reason to deal Gasol. His contract was expiring, and the Lakers suddenly needed him more than ever. More than when they dealt for him midway through 2007-08. Assuming just this, Gasol may have fallen into a false sense of security.
Now this.
If you ask me, Gasol will go nowhere before the trade deadline. Pleasing the injured Kobe Bryant is still priority No. 1 in Los Angeles, and if an extra $20 million in taxes will keep him slightly happier, then so be it. That's what this is all about, after all—the money.
The Lakers, losers of six straight, are tanking quite nicely with Gasol. Swapping him out for essentially no one would further the cause, but it's not exactly necessary. How much worse could they get? And is there really a way they can guarantee themselves a top-five pick when the Eastern Conference smells of the crap that actual crap craps?
"It's kind of out of my control," Gasol said, via Adande. "I'd like to continue to be here. It's been my home for the good and the bad and everything else."
Trade or no trade, it likely won't be his home for much longer. Even if the Lakers don't renounce his rights this summer—assuming they don't trade him—too many bridges may have been burned for him to return at a discount.
Come summer, if Gasol is still a Laker, he could be the one that ends this progressively twisted relationship once and for all.
Dan Favale is a firm believer in the three-pointer as well as the notion that defense doesn't always win championships. His musings can be found at Bleacherreport.com in addition to TheHoopDoctors.com.